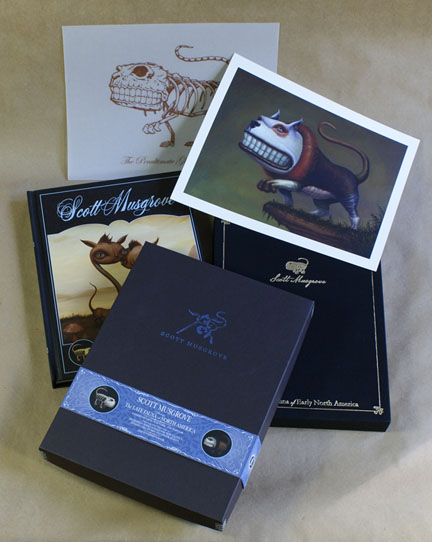 The ever-so talented, Seattle-based artist Scott Musgrove balances his time retracing forgotten animals of generations past and reincarnating those extinct creatures with masterful precision at the easel. For those hunkering for some Musgrove goodness before his 2010 solo show at Jonathan Levine, we have just the thing. A recently released Limited Edition Box Set of his newest book, entitled "The Late Fauna of Early North America," gives life to the lost species of yesteryear in super swanky fashion.
Details after the jump.
This is a limited edition box set that includes the signed and numbered 172 page hard bound book in a gold-embossed, fabric-covered slipcase, a custom-made box with foil stamping and a giclee-printed band along with a giclee print of The Penultimate Glamour Cat with skeleton Vellum Overlay.
Signed and Numbered Edition of 60 – Both book and print are signed and have matching numbers.
Print size: 10.5″ x 8″
The box set can be purchased exclusively from Scott at his blog for $125, a wonderful value for such an exquisitely produced set! For those interested in simply grabbing a standard copy of the book, you can do so for $34.95 at Last Gasp Publishing's website.
All in all, the book is a wonderful, in-depth look into the creative mind of one of the preeminent artists in the pop surrealist movement. Highly recommended!
Discuss Scott Musgrove here.