We recently brought you a preview for "The Future Tense" held last week at the Future Gallery in London, where we focused on the art of Icelandic artist Katrin Fridriks. Well, AM sadly couldn't make it to the show ourselves, but Ed of TFT sent us along a great set of pictures of the installed art and also from the opening event.
It looks as a good night was had by all, and for an inaugural exhibition, it also looks as the event was well staged, well organized and beautifully presented. Showing alongside Fridriks were Lee Baker, Mark Webber, Tom Oldham, Joseph Loughborough, Jamie Shaw and Louis Hudson. The work from each of the artists looks strong, so we are looking forward to seeing what this dynamic grouping can turn out next.
Read on for further details and pictures from the opening after the jump.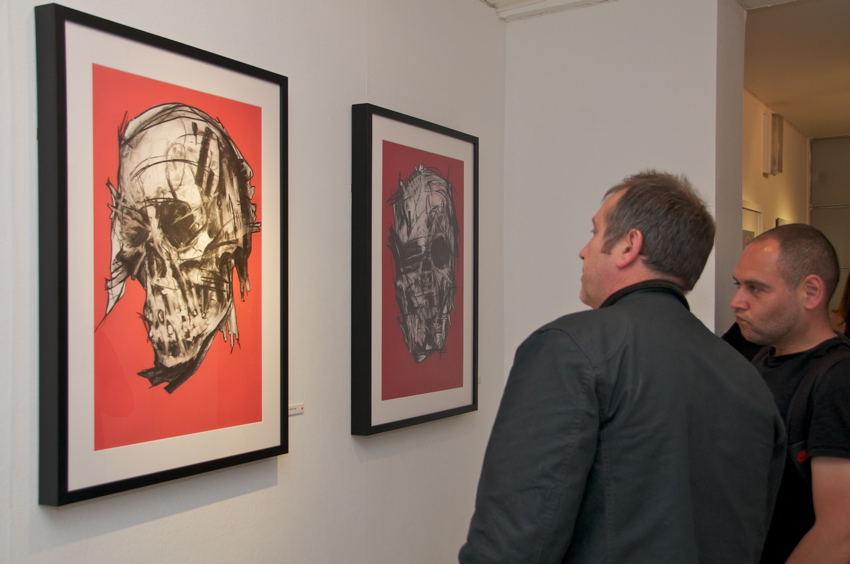 Along with Fridriks' energetic mark making, one of the other stand outs for us here are Joseph Loughborough's works. We've been watching this promising artist for a while, and his monochromatic head studies have previously shown a wonderfully dark promise – very 'London School'. In this show though, he seems to found his voice, with the strength and quality of his work being raised a notch – the coloured backgrounds really accentuating the twisted, dark energy of the central compositions.
Lee Baker's super-clean manga inspired pure pop mural dominates the space and rides well alongside his smaller, and more home friendly, similarly themed pieces and plush / sculptures, and Mark Webber's 1.8×1.6m linocut, text based map of Paris – which was 800 hours in the making – was a particularly strong concept. Webber's London map was also available as an editioned print proving popular amongst the locals in attendance.