Spring is finally behind us and we look forward to a summer with blazing art. But for now, let's look back to a significant May with another edition of Second Helpings where we bring you some of our favorite stories from the past month. Get served after the jump.

Sleepboy recommends:
With Hong Kong now as the third largest market for art in the world based on auction sales, Art HK is poised to become one of the most important fairs our there. You can check out all our photos here, and you can be sure that AM will continue to position ourselves for increasing coverage of this crucial region.
2) Yoshitomo Nara – "Ceramic Works" @ Tomio Koyama Gallery
Renowned Japanese artist Yoshitomo Nara's work is always full of joy and wonder. This show in Tokyo is no different as he brings a new body of work – all ceramics – a new medium he has been training at for over a year. He even brought some pieces with him to Hong Kong for Art HK '10.
3) Mark Ryden – "The Gay 90's: Old Tyme Art Show" @ Paul Kasmin Gallery
One of the greats in the so-called Low Brow Art genre opened a new solo show in NY recently. Ryden didn't disappoint of course – bringing a new body of work full of stunning and irreverent imagery.  Check out all of our coverage here.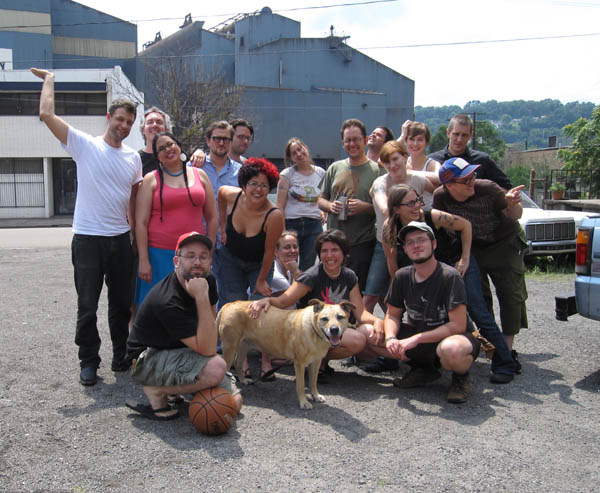 With a collective that includes so many artists like Swoon (interviewed) and Chris Stain (interviewed), there is bound to be a lot of great art put out supporting and championing various causes. We got the rare opportunity to sit down and do a group interview with many of the members together, leading to some very interesting and insightful answers.
Juggernut3 recommends:
1) Shepard Fairey – "May Day" @ Deitch Projects coverage
Shepard Fairey (featured) made a triumphant return to New York with a tremendous solo show at the famous Deitch Projects. With iconic works both inside and outside the walls, New York got a heavy dosage of Obey from "the hardest working man in street art" ~ Banksy.

2) Studio Visit / Preview: Greg Simkins – "Inside the Outside" @ Joshua Liner Gallery
Super artist Greg "Craola" Simkins allowed us into his fantastic world with an exclusive studio visit for his coming show at Joshua Liner Gallery. From top to bottom, one of the craziest shows that we've seen all year.
3) Openings: "Beyond the Street" NY Book Launch @ Deitch Projects
It was the last event for Deitch Projects and basically most of the big names came out for a last hurrah at the famed space for this awesome book signing. The book contained many notable artists and interviews.
4) Openings: Faile Bast Deluxx Fluxx Arcade – NYC edition
Faile and Bast put on an amazing exhibition on how to "go retro" with an authentic arcade in the LES of New York City. Great art mixed in with nostalgically driven themes a combo that was great for the lucky people of NYC.