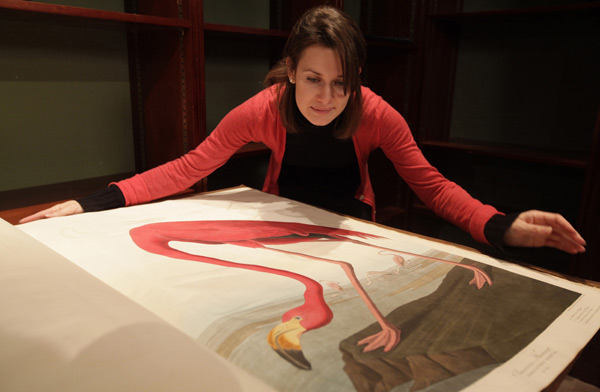 Now, the world's most expensive book – John James Audobon's Birds of America.
Steve Martin (one of the world's best art collectors), Shepard Fairey, Andres Serrano, and Frank Stella on Colbert Report.
Jeffrey Deitch planning a Julian Schnabel retrospective at MOCA
Steve Martin boring?  He talks art, interrupted because not entertaining enough, later apologized to.
Lost Leonardo di Vinci manuscript fragment found in France.
Ai Weiwei picked on again.  This time, China bans him from traveling to Korea.  But the good news this week is that Lisson Gallery is now representing him.
Jerry Saltz's top ten art shows of 2010.
Billionaire Roman Abramovich buys an island, now to build museum to house his art collection.
The censorship of David Wojnarowicz's work from the National Portrait Gallery is an act of unspeakable aggression against artists, writers, intellectuals, people affected by AIDS, and, especially, the entire LGBTQ community in this country and throughout the world. – Dan Cameron
What would you barter for art work?
New sculptural pieces from Yoskay Yamamoto.
A look at Marion Peck's new book.
Some new canvases from Candice Tripp.
The handstyles of Sure on video. R.I.P.
A clay-mation Banksy.
The controversial buffing of Blu's piece at MOCA on video.
Buy this house in Philly and get a free Keith Haring mural.