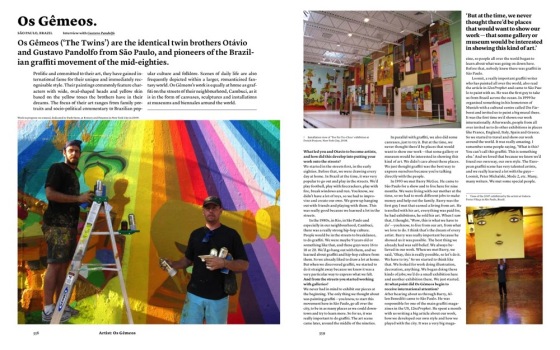 Set to be a future bible of the urban and street art scene, Gestalten are soon to publish "Beyond the Street – The 100 Leading Figures in Urban Art". Compiled and edited by Patrick Nguyen and Stuart Mackenzie, this 400 page monster-sized tome has been over 2 years in the making. To date, we've seen some page spreads and sneaked a read of a couple of the wonderfully constructed and insightful interviews contained within the book. Certainly, if you have an interest in this genre of art, then you need a copy of this important book, as it looks destined to be an invaluable resource and reference point of just where the state of the (street) art is here in 2010. The list of participants reads like a who's who from the worlds of street and urban art and includes interviews with the following makers, gallerists, commentators, documenters and auction houses (see complete list after the jump).
If you haven't already pre-ordered a copy of the book as we have (Amazon UK & USA have a good value pre-order deal currently), then you can pick up a copy and get it signed by some of the participants at the book launch and signing events to be held in both London at the Philips de Pury auction house and New York at Deitch Projects during the Shepard Fairey exhibition in May.
Read on to see some of the beautifully assembled page spreads, and get details of the book launch and signing events after the jump.
12ozProphet. Aaron Rose. Agnès B. Akay. Alexandre Farto (a.k.a. Vhils). Alëxone Dizac. A.L.I.C.E. Gallery. Andipa Gallery. Anthony Lister. Bast. Beejoir. Black Rat Press Gallery. Blek le Rat. BLK / MRKT Gallery. Blu. Boris Hoppek. Boris Tellegen (a.k.a. Delta). Brad Downey. Carmichael Gallery. Christie's. Circleculture Gallery. Conor Harrington. Dan Witz. Dave Kinsey. David Choe. Deitch Projects. D*Face. Dolk. Doze Green. Dzine. Eine. Elbow-Toe. Ericailcane. Escif. Faile. Futura. Gaia. Galerie L.J. Galerie Magda Danysz. Galleria Patricia Armocida. Herakut. HuskMitNavn. Iguapop Gallery. Invader. Jonathan LeVine Gallery. José Parlá. JR. Judith Supine. Juxtapoz Magazine. kennardphillipps. Know Hope. Labrona. Lazarides Gallery. Logan Hicks. Lucas Price (a.k.a. Cyclops). Lucy McLauchlan. Mark Jenkins. Martha Cooper & Henry Chalfant. Matt Small. Miss Van. Mode 2. Momo. N2 Gallery. New Image Art. Nick Walker. Nuart Festival. Nuria Mora. Os Gêmeos. Other. Patti Astor. Pedro Alonzo. Phillips de Pury & Company. Retna. Ron English. Saber. Sam3. Shepard Fairey. Sixeart. Slinkachu. Sotheby's. Souled Out Studios. Speto. SpY. Stelios Faitakis. Stephan Doitschinoff (a.k.a. Calma). Steve Powers (a.k.a. ESPO). StolenSpace Gallery. Studio Cromie / FAME Festival. Subliminal Projects Gallery. Sweet Toof. Swoon. Tate Modern. Titi Freak. Todd James. Tristan Manco. V1 Gallery. WallKandy Art Forum. Walter Nomura (a.k.a. Tinho). WK Interact. Wooster Collective. Zevs.
London book launch event
Friday, 7 May at Phillips de Pury.  [9 Howick Place, London SW1P 1BB]
New York Book launch event
New York launch:  Thursday, 27 May at Deitch Projects (during the final show at Deitch by Shepard Fairey).  [18 Wooster Street, New York, NY 10013]
Discuss this and other art books here.