Fans came out by the hundreds and waited for hours in a line that stretched down La Cienega Blvd. to check out artist and designer KAWS' latest solo exhibition entitled, "The Long Way Home," which opened last night at Honor Fraser.
Fans loved the latest series of abstractions and were delighted that KAWS was pushing the boundaries of his creativity.This show is the first time there's nothing identifiable with my aesthetic except the palette and the way it's painted. There's no X eyes. I feel like I'm at a point where I don't have to signal back to past works, he described in an article in yesterday's L.A. Times.
Connoisseurs who wanted to see some of his signature work were also satisfied, with an entire room devoted to his "Kurf" styled pieces, a series of six bronze painted 20 1/2″ chums, a life-sized 90″ day-glo green Chum, and three painted bronze KAWS heads.
See the rest of the photos from the opening after the jump.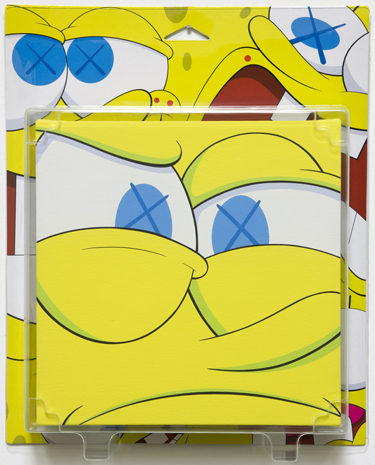 Additional pics by Ideabolo of Artempus (AM:EU) and Honor Fraser.