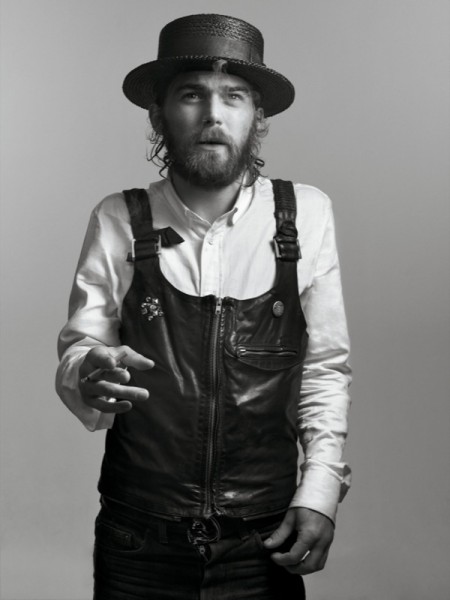 Photo by Craig McDean. Via Interview Magazine.
On the night of Monday, July 13, 2009, Dashiell A. Snow tragically passed away at Lafayette House, a hotel in Manhattan. He was only 27 years old and leaves behind a 1-year old daughter named Secret and her mother, his partner Jade Berreau. Snow was one of the most promising young artists to emerge from New York City and was an inspiration and influence to many other artists in the area, many of whom were long-time close friends and collaborators. These included Dan Colen (who referenced Snow in his artwork as well as appeared in Snow's photographs and Polaroids), Ryan McGinley (Snow was his "muse"), Agathe Snow (whom he was married to), Terence Koh (dedicated a performance in honor of Snow, whom he refers to as one of his "best friends," immediately following his death), and Aaron Young.
Read on for a detailed look at Snow's life, his achievements and the amazing work he produced after the jump.
Photo by Ryan McGinley – "Dash Bombing".
During his lifetime, he was a graffiti writer (known as Sace or Sacer, who along with Earsnot, formed the IRAK Crew), photographer, sculptor, collagist, filmmaker, and model. Snow's artistic contributions were oftentimes overshadowed by his controversial lifestyle (although much of his work was based on it) and privileged family background (his great-grandmother is Dominique de Menil, one of the founders of the Menil Collection, one of the most important modern art collections around). Having run away from home in his early teens, his career as an artist famously began when he took photographs with a stolen camera to document times and places he would not remember due to chemical means. The theme of these pictures were of an illicit, frank, explicit, rebellious, and candid nature, fueled by sex, drugs and sometimes violence. His distinctive collage-based work featured newspaper headlines and found images. They also contained his own, as well as others', bodily fluids, such as semen and urine.
Photo by Ryan McGinley. Via Vice.
No matter the criticism he has received over the years regarding the lifestyle he lived and depicted, the originality of his work or the financial security he received from the family he was born into, there is no debate or denial of the prominence of the exhibitions he has been a part of, the galleries he has been represented by and the prestige of the collections he is included in. Although he only had about three to four years of seriously producing art, Dash Snow made a major impact with his work. He is represented by some of the best and most well-known galleries in the world, including the now-defunct, though influential Rivington Arms gallery where he had his first solo show in 2005 and today by Javier Peres at Peres Projects in Los Angeles and Berlin and Contemporary Fine Arts in Berlin. His work is collected by major art world titans such as Charles Saatchi, Anita Zabludowicz and Dakis Joannou and is included in museums like The Whitney Museum of American Art and the Brooklyn Museum. He was a part of the Whitney Biennial, one of the leading shows in the art world, in 2006. He has been included in shows at Deitch Projects in the U.S., The Royal Academy and Saatchi Gallery in London, Pergamon Museum in Berlin, Palais de Tokyo in Paris, and Bergen Kunsthall in Norway. His artwork is featured in several sought-after books, including "God spoiled a perfectasshole when he put teeth in yer mouth," which includes works from his show at Peres Projects of the same name, a collected Polaroids book that has seven titles and The End of Living the Beginning of Survival.
Colen, McGinley, and Snow in Dash's Apartment. Photo by Cass Bird. Via New York Magazine.
While the cause of his death is still under investigation, many, including his grandmother Christophe de Menil, believe it was due to an overdose of heroin. He had a well-known problem with drugs but made efforts to get off them. As recently as this past March, he went into and completed rehabilitation. Those that were close to him who saw him in the past weeks and months saw a man in good health and spirits. He has always been known as a kind, friendly, approachable and gentle human being who was always seen spending time with his daughter. He will remain forever young and beautiful and will by missed by those who were fortunate enough to know him personally and those that only had the chance to know him through his artwork.
Snow with daughter Secret. Photo via Vice Magazine.
Sacer drawing contained in AM's sketchbook.
Dedication to Dash Snow by Os Gemeos on their Deitch wall mural.
Select artwork by Dash Snow. All images via of Rivington Arms, Peres Projects, Contemporary Fine Arts, Vice Magazine and Saatchi Gallery.
Written by Khoi Nguyen.