One of the highlights of our visit to Basel week in Miami last year was seeing Los Angeles artist Wayne White's work displayed at Mireille Mosler's booth at the Nada Art Fair. AM has since been looking forward to a showing of Wayne White's work, and that time has now come in the shape of his solo exhibition "I Fell 37 Miles to Earth 100 Years Age" at the Marty Walker Gallery opening this Saturday in Dallas, Texas.
For those not familiar with Wayne's work, he uses landscape based vintage thrift store lithographs as his base canvas and adds a spectacular series of 3 dimensional sculptural lettering forms into the composition, complimenting, using and enhancing the original image, in particular any water based elements to reflect the quirky words and phrases used.
You may well have been exposed to White's work previously as he was Art Director and co-creator of the Emmy award winning Pee-Wee's Playhouse in addition to being an award winning Art Director on Peter Gabriel's watershed music video for "Big Time" and also on Smashing Pumpkins beautiful "Tonight, Tonight". Also, If you haven't yet picked up a copy of White's excellent 384 page behemoth-of-a-monograph, the brilliantly titled "Maybe Now I'll Get The Respect I So Richly Deserve", you should grab a copy of the special edition here whilst they are still available.
More preview images after the jump.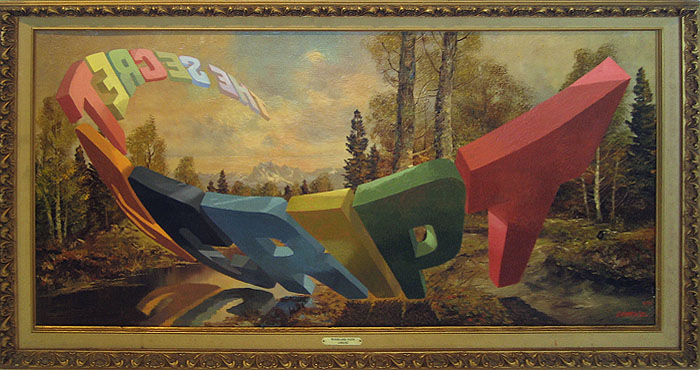 Discuss Wayne White here.