As his upcoming show at NYC's Joshua Liner gallery quickly approaches in just a couple weeks, Shawn Barber (featured) recently sat down with AM for a quick discussion on the art of getting, giving and painting tattoos. Known primarily for his sittings with tattoo legends and artists, Shawn's latest exposition, "Tattooed Portraits: Chronicle" looks to be no less than the stellar work we've come to expect, as evidenced by the teaser images he's sent our way.
Full interview and show preview after the jump.
Arrested Motion (AM): Jack London once said: "Show me a man with a tattoo and I'll show you a man with an interesting past." On that note, would you mind taking a minute and telling our readers a bit about yourself and your past?
Shawn Barber (SB): I'm not sure about interesting, but it's been a long road of trying to figure out what to do with one's life to stay sane enough to enjoy life's experience. I've worked a slew of different jobs before I made any sort of living as an artist – dishwasher, heavy metal singer, cook, factory worker, machine operator, sign painter, coffee shop grunt, and book store lackey to name a few. I was born in Central New York in 1970, lived there off and on for 20 years, lived in Alaska and Southern California for a while, was a student and taught for a few years in South Florida, taught at a couple of at schools in San Francisco, quit teaching to pursue an apprenticeship and tattooing. Made a living as a commercial illustrator for 10 years, and the past few years painting as my primary time spender and financial supporter.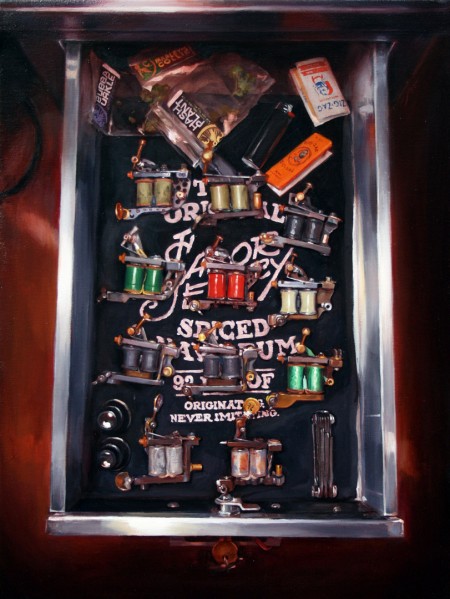 AM: Since we last saw you in San Francisco, you've moved down south to Los Angeles, how's that going? Have you acclimated to the weather, the culture?
SB: It's going well. I'm finally getting somewhat acclimated to being a resident of Los Angeles. We just moved into a great apartment that is walking (or bike riding) distance to our tattoo/painting studio in West Hollywood. It's awesome to not have to drive everywhere down here. The new studio, Memoir Tattoo, is perfect – lots of open space to breathe and work. I've been teaching a bit out of the space and tattooing a day or so a week, while my girlfriend, Kim Saigh, is tattooing and making art here on a daily basis. I also work two days a week in Pasadena at Incognito Tattoo. As far as Los Angeles culture, I work all of the time and have enjoyed the weather more than anything. The artist community is really spread out here and it's just weird. Nothing like San Francisco – I miss my friends there for sure.
AM : The mainstream acceptance and popularization of tattoo culture saw a recent spike with the commercialization of Don Ed Hardy's work by Christian Audigier and his apparel line. What are your thoughts on this, and do you feel it's detrimental to the lifestyle?
SB: No comment, thanks.
AM: In an interview for the Shooting Gallery last year, you said your first tattoo was of the black costumed Spider-man from Secret Wars 2, when you were sixteen years old. I'm a comic nerd myself so I fully understand where you were coming from there, however, a lot of people who get tattoos that young can often regret them later in life. Do you ever regret that tattoo or do you have any tattoos that you do regret?
SB: I wouldn't say that I regret it. I loved that thing for a long time- I was bummed for getting it done by someone who did not know how to draw or tattoo very well. But that's life (and it's in the process of being removed). There's a saying that everyone deserves the tattoos they get and there is absolute truth in that. Tattoos are generally permanently placed on the impatient, impulsive moments of uncertainty (and everybody's a fucking art director). I'm heavily tattooed but always interested in getting new work. I'm trying to exercise patience – but I know too many great tattooists to slow that experience down.
AM : Do you have a favorite tattoo, one the means the most to you? What is it that makes a tattoo good?
SB: I love them all for different reasons. At the moment, Jason Kundell from Art Work Rebels in Portland is working on my ribs/torso and it's fucking epic! Dynamic composition, powerful drawing, interesting subject matter – he is a bad ass.
As far as what makes a tattoo good – that statement could be answered in so many different ways depending on who you're talking to. Everyone has an opinion and really believes their opinion is truth – but I don't think it's that cut and dry.
If your client is happy and loves that tattoo for the rest of their lives, and it makes them feel better about themselves or helps them get through tough times, you can't knock that shit. In an ideal world, a good tattoo would be a solid drawing with consideration of the clients idea or chosen subject matter, a respect for the flesh and longevity of the tattoo's life in the skin (especially depending on where it is on the body), a decent sense of anatomy and good flow/composition in regards to the human anatomy and it's movement, and tried and true, the thirds method: a third skin, a third color and a third black. There's never enough black! I'm learning and trying to listen to these words myself, believe me- the tattoo medium is difficult and peculiar.
AM : You've been teaching art at various colleges and workshops since 1997. What drew you into the world of teaching, and what's been the most interesting thing in transitioning from teaching into the world of fine art?
SB: I fell into teaching in college and loved it from day one. We are all students and must respect the fact that there is no right way and no one way to do anything and do it well. There are things that work and things that don't, things that look good and things that don't. And the reality is that there are so many options of creative self expression. I'm in love with drawing and painting, mostly on the traditional side and with that, there is a definitive love of craft. The business of art is ever changing and most teacher's teaching art don't have their hand on the pulse of the present and it's unfortunately an important part of making a living as an artist.
After being in the academic arena for a while, you really see the business side of the institution and it is an amazing scam. For the money and debt, it is not worth it unless you are in the 8% that makes an actual living as an artist after you graduate – those are tough odds. I still teach privately and have an interest in helping people out with the craft and sharing my own experiences, but not taking advantage of their financial security.
AM : Since 2005, you've been documenting and painting the portraits and tattoos of many of today's best artists including Mike Giant, Jeremy Fish, Natalia Fabia, Sylvia Ji and Scott Campbell to name a few… who's next on the list?
SB: I've painted several fine artists but my interest is going much more in the direction of focusing on contemporary tattoo history and the artists living and working today making tattoos. It's been the natural progression of things, and now, as a tattooist, my passion lies in the life of the community. It's a world that if you're not in it – you don't have a fucking clue. And you will never know. It is the most amazing artist community in the world, with it's own sets of rules, unspoken hierarchy with a ton of respect for the past. It's a family of transients that connect with humanity on a daily basis and are permanently tied to everyone they work on. Humbling and intimidating, tattooing is truly awesome.
AM : Are there any artists you'd really like to paint?
SB: Outside of the tattoo community – Terry Richardson would be great subject matter to paint. Maybe someday…
AM : Any artists you'd really like to tattoo?
SB: I have been tattooed by quite a few non tattooists, and have the first tattoos done by Michael Hussar, El Coro, Tara McPherson, Nate VanDyke, and Kevin Llewellyn.
AM : In a studio visit by Fecal Face last year, we caught a glimpse of your extensive skull collection. It seems like it's been a while since we've seen anything new added to your Doll Series. Have you put that on the back burner and are there any new series in the works?
SB: They seep out here and there. I'm actually going to take a year or two off from any solo shows to focus more on the tattoo medium and paint for the sake of painting with no deadlines. I have a ton of ideas and just want to see where they take me.
AM: You've got an upcoming show at Joshua Liner next month, an extension of your Tattooed Portraits series. Your "Tattooed Portraits: Snapshots" show at the Shooting Gallery last year (covered) featured amongst it's subjects Scott Sylvia, Margaret Cho and Jo Harrison, who can we expect to see painted at your upcoming show in NYC?
SB: Oh man, this show is the best one yet! I'm working on life size nude of the artist Thomas Woodruff inside one of his paintings; a diptych of the twin tattooists, James and Tim Kern; a couple of interior scenes and still life paintings that are the most elaborate pieces for me yet, an homage to Velaquez' Juan de Pareja with Damon Conklin; portraits of my girlfriend, Bob Tyrrell, Michelle Myles, and Camila Rocha; a large scale painting of Marisa Kakoulas; torso studies of Turf One, Chris Garver Anna Sheffield and Bryan Bancroft; and a slew of watercolors that I'm challenging myself with.
AM: You once posted on your blog some advice for aspiring artists: "If you step outside of your comfort zone and challenge yourself to acknowledge your weaknesses, are completely critical of your shortcomings, and sincerely internalize your habits (good and bad), you will be amazed by the progression waiting ahead of you." What do you feel are your personal weaknesses, bad habits?
SB: I think that I definitely have the capacity, ability and desire to experiment more and looking forward to addressing that on a greater level these next two years. I have the weakness of agreeing to take on more than I can handle at all times and it's taking it's toll. I think by teaching and talking with other artists, there is always a different way to deal with something and make it work.
AM: Any other advice you'd like to pass on? Words of wisdom?
SB: Don't get caught up in the bullshit. Make art, be true to yourself, respect your influences and be an individual. If you're doing it for the money or fame- get out now! No one wants you but the sheep! And they will choke on your insecurity.
AM: Thanks Shawn and best of luck with the show.