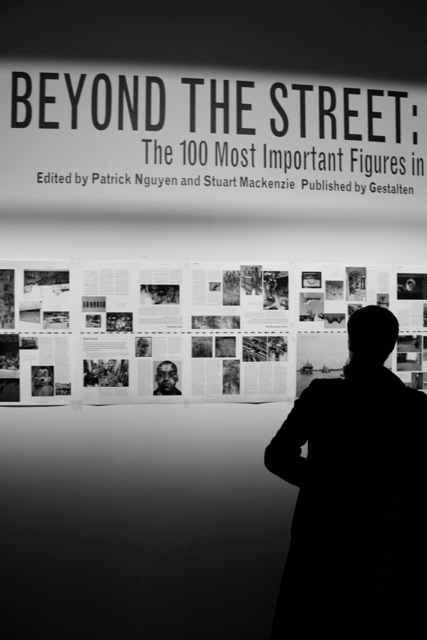 The London book launch for Gestalten's "Beyond the Street: The 100 Leading Figures in Urban Art" took place on Friday last week at Phillips de Pury's Victoria headquarters to a healthy crowd and with a celebratory vibe. Many of the book's contributors joined the editors of the book, Patrick Nguyen and Stuart Mackenzie, to toast the success of just how well this mammoth publication turned out. Artists and contributors alike happily signed and doodled in books all night. AM saw the launch party as both a coming together and also a coming of age for the London street art scene, with this encyclopedic volume now able to preserve the importance of street art and it's undoubtable influence on the global art scene.
The neutral location of the auction house worked especially well for a launch night – there was no distraction of art on the walls, so the crowd interacted with the artists, gallerists, curators and each other in one of the most memorable and jubilant nights we've spent in London recently.
If you haven't yet grabbed a copy of the book, and have even a passing interest in street / urban / new-contemporary art – call it what you will, this is a must have book. After spending a couple of days thumbing through the 400 plus pages, we've hardly scratched the surface of this informative and well compiled volume. It's gonna take a while to get though, but it's a highly enjoyable journey. And, if you are in New York, get yourself along to the NY launch, and probable final event ever at Deitch Projects, Thursday May 27th between 6 and 9pm. We hear that a whole slew of artists and contributors will be in attendance and signing books on the night.
Take a look at some of our pictures from the London launch after the jump.