We'd been anticipating Best|Ever's debut 'official' solo show since first coming across some early examples of their work a couple of years back, and our recent interview with the duo of Neil 'Best' Edward and Hadley 'Ever' Newman only served to build our desire further to experience their paintings as a body of work within a gallery setting.
AM went along to the opening night of 'Some Anatomies of Melancholy' last week, and B|E delivered a solid exhibition to a packed house. The main gallery space at Blackall Studios presents a series of works on canvas with a level of soul not usually experienced within the genre of spray can art. The technical accomplishment that these two young artists have achieved in the short time they have been working together is remarkable, but as we may have enthused previously, it is the level of passion and depth that the pair seem to be able to squeeze out of the spray-can onto the canvas that brings East London an artistic version of Washington DC's musical landmark revolution summer, where emotion is proudly displayed alongside the traditionally machismo laden street art scene. Not that B|E are delicate emo types of course, it's just a treat to see the frailties of the human condition portrayed so well in such an exhibition, and Neil & Hadley articulate the exploration of human emotion in a very eloquent manner.
More words and pictures from the opening after the jump.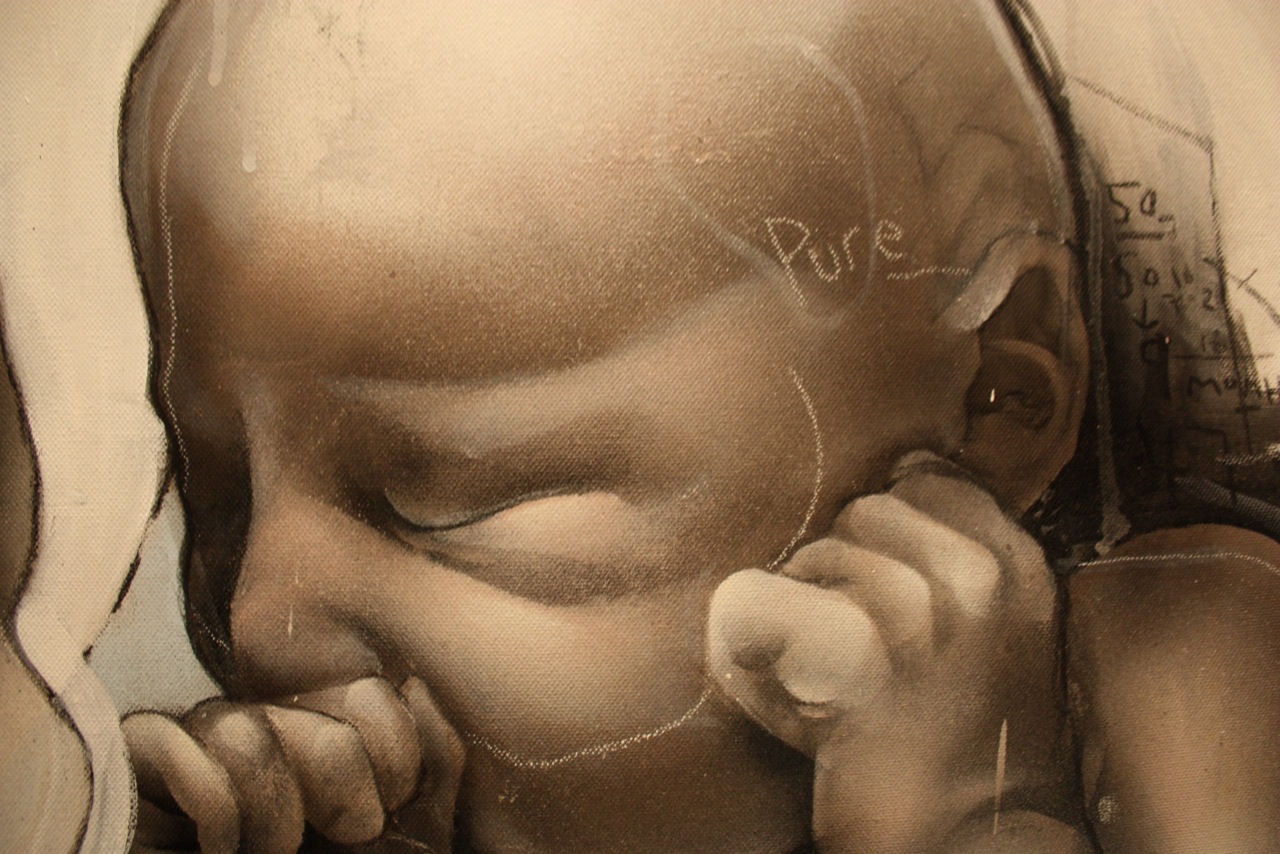 The collection of works on canvas was begun in the seaside base of Bournemouth, and was recently completed at London's Cordy House, which acted as a temporary studio space for B|E. The white walls of the gallery combine with the negative backgrounds of each of the paintings to pop the subjects of the paintings right off the wall and into the consciousness of the viewer.
Best|Ever's first foray into three dimensions was housed in the upper gallery in the form of a well sculpted figure rising out of a podium. We had seen some pictures of this piece in progress, and it looked impressive with the waxy glaze of the figure being interesting in its tones. At the exhibition, the sculpt was presented painted a stark white; and perhaps it would have had more effect if the original hue had been preserved or built upon rather than the blanket covering it received. The lower gallery houses a selection of paintings produced previously, not from this body of work. It provided an interesting view into the progression of the duo from their inception to where they stand now, which looks to us to be on the verge of great things. The exhibition runs until 20th November. Take time to see it if you can.
Check our full set of pictures here.
Discuss Best|Ever here.