Washington State based artist Brom is a legend in the fantasy world, with art work in movies, games and books.  His latest book Krampus, the Yule Lord was released in April of this year and he is coming off of recent appearances at Emerald City Con and Fantasy Con. AM recently got the chance to talk with him while he was preparing for this year's Baby Tattooville about things like his experiences working on Van Helsing, how living in the Pacific Northwest affects his work and who he is most excited to meet at this year's Baby Tattooville.
Arrested Motion (AM): Can you describe your proudest or most memorable moment as an artist? What happened, where you were, how you found out, how you felt, why it was such a memorable event? 
Brom: It would have to be the Grand Master Award from Spectrum. I was in attendance in the audience with no idea I was in line for the award. So the shock and surprise upon the announcement was quite profound and moving. There is nothing more rewarding, creatively, than to be recognized by your peers.
AM: You have moved several times and ended up in the Pacific Northwest, which seems very appropriate for your work. Do you feel like the mercurial, brooding weather drew you there? Does it affect / enhance your art?
Brom: It doesn't rain that much, it drizzles, a misty atmospheric drizzle – perfect writing, painting and brooding weather. We live on a creek in the shadow of a wooded mountain. Very inspiring. The only real downside is the bears, but for the most part if you leave them alone they will leave you alone.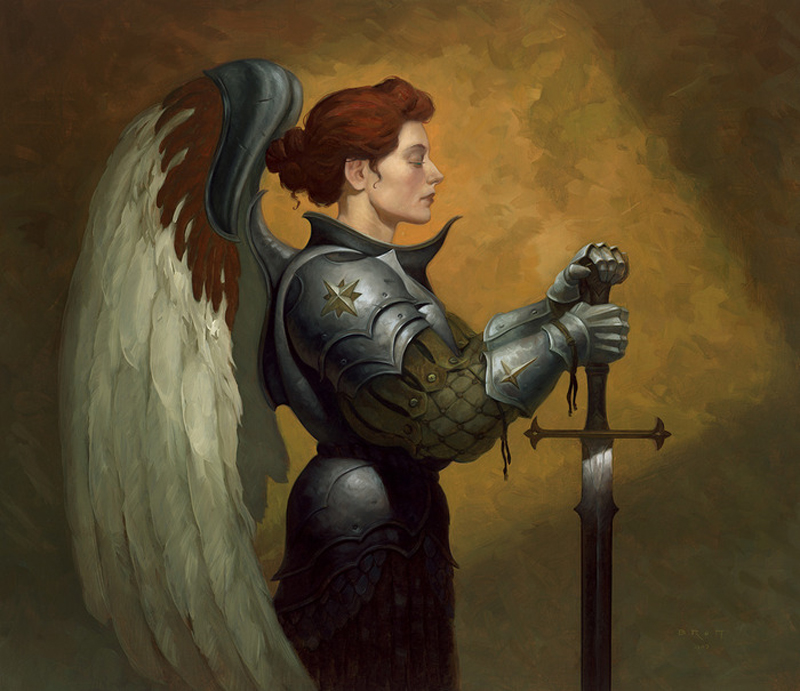 AM: Can you give me a day in the life of Brom?  Up late / early, what is your studio like, routines, coffee shops, etc.? 
Brom: Orderly and routine makes me happy. Up at 7 am and in the studio as soon as possible, 10 am is 1st chocolate break, dark chocolate, the 85% cacao kind, lunch at 11:45 am, followed by twenty minute nap then back in the studio around 1 pm. Second chocolate break around 2 pm, god, I'm addicted to chocolate, work till 4:30 pm then brain locks up and I'm done. After dinner, I work on all the boring administration stuff.
AM: You worked as a concept artist for Van Helsing.  Can you tell me what that involved, and what it was like?
Brom: Like much movie work it is about sending in a shotgun blast of ideas, which they then pluck out elements here and there and Frankenstein them together with elements from other artists' work to create something that you might, if lucky, recognize some small part of as being yours. Still a hell of a lot of fun though.
AM: You are married to Laurie Lee Brom, another one of our favorite artists. Do you segment your creativeness from each other, or do you bounce ideas off each other, offer criticism / assistance and do you influence each other?  
Brom: She's my muse. We met in art school when we were 17 and 18, stuck like glue ever since. Her taste, work and ideas are a big influence upon my work. Our studios are connected, though there is a door. As she says, I tend to jibber-jabber too much.
AM: Have you ever traded art with another artist? 
Brom: I'm not much of a collector. I tend to trade with artists that I have some sort of personal bond with. I have art by Jeffery Jones, Mike Mignola, Ric Berry, Phil Hale, Dave Dorman, Mark Nelson, Sanjulian, Keith Parkinson to name a few.
AM: Have you ever collaborated with another artist, or is there a dream collaboration you would like to have happen? 
Brom: My most enjoyable collaborations are with sculptures as it is thrilling to see my work brought to life in dimensionally. I've had the pleasure of collaborating with Tim Bruckner, Shiflett Brothers, and most recently, Virginie Ropars and Tom Kuebler.
AM: Is this your first time at Baby Tattoville?  Are there any artists you are excited to meet that will be at Baby Tattoville? 
Brom: All of them (grin).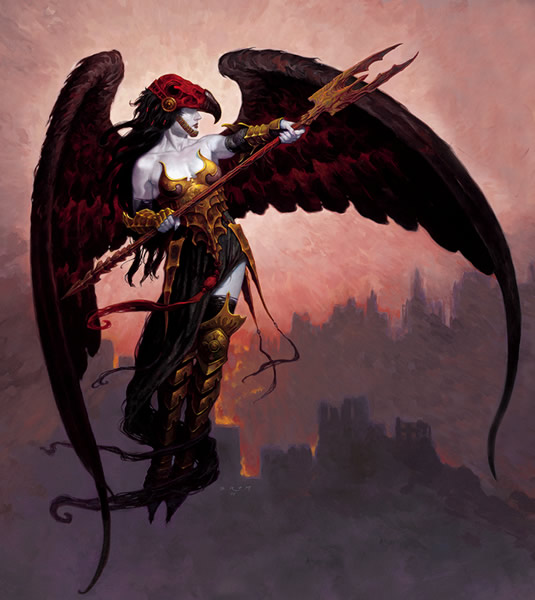 AM: I would love to hear about Brom as the story teller. Can you tell me about your stories, do they come to you as a complete story, fragmented images or do they develop as you write them? They all have a lot of art with them, are they driven by the art, or is the art driven by the story? 
Brom: It varies. Sometimes my tales starts off with a visual image that I created that I wish to explore and the story evolves from there. As I grow as a writer, I find my concepts to be more plot driven. It can be an unusual idea or a combination of ideas I haven't seen before. This can be through images or fiction. I find the two arts inspire one another. Even the vaguest ideas come with pictures in my mind. I will do some sketching, then some writing, back and forth, using ideas discovered in one medium to strengthen the other.
AM: Do you use models? Do people you know ever show up in your work (any examples)?
Brom: I tend to paint primarily from imagination, but enjoy working from models when I have the chance. I tend to alter things so much, though, that it is hard to recognize the person who actually posed. The demons are harder to get to sit still, but make for much more interesting conversation.
AM: Any projects coming up you would like to talk about?
Brom: I recently finished up a lifetime collection of my art published by Flesk Publishing. Currently working on a new unnamed novel, details will begin to show up early 2015. Please check my website for the latest on all my novels and art books – www.bromart.com