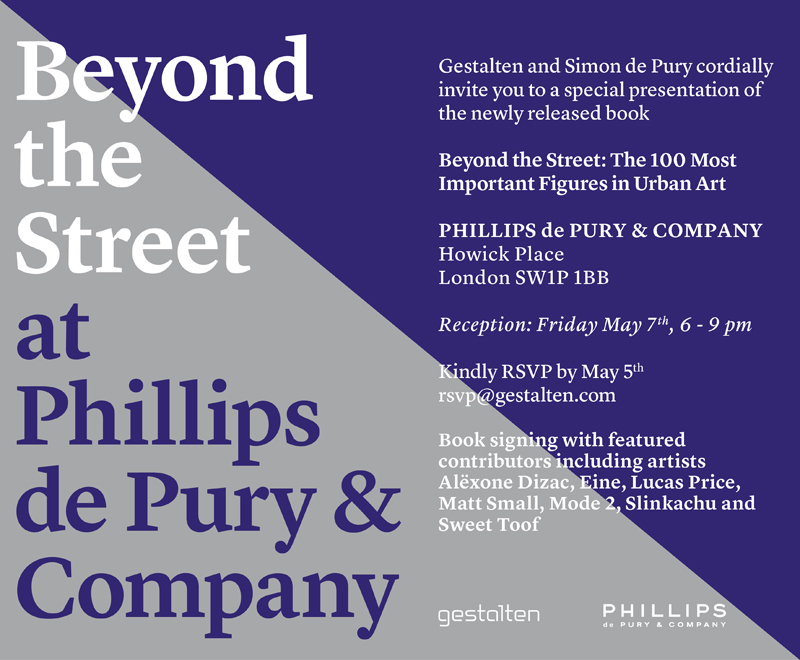 We brought you some news last week of the impending book release and launch parties in London and New York that publisher Gestalten is planning for "Beyond the Street: The 100 Most Important Figures in Urban Art", and now some further details have been released regarding the London launch party co-hosted by Gestalten and Simon de Pury.
The May 7th event runs from 6pm until 9pm at Philips de Pury, Howick Place, London SW1 1BB. The reception is open to all, but see the flyer for details of how to RSVP a spot for yourself. Looks like Eine, Matt Small, Lucas Price (Cyclops), Alëxone Dizac, Mode 2, Sweet Toof and Slinkachu will be amongst the contributors present to sign copies of the book.
Gestalten has kindly donated a copy of the book for Arrested Motion to give away to one of our readers. All you have to do for a chance to win our copy is leave a comment below stating which interview you are anticipating the most, and briefly, why. We'll choose a winner at random after the deadline for entries expires at 11pm GMT on Sunday 9th May and will then get the book to the winner by mail.
In the meantime, read on for an extract of one of the interviews carried out with Steve Powers (ESPO) after the jump.

When did you stop painting illegally and become a 'respectable member of society'?
I stopped doing graffiti in '99. I'd been painting for 15 years by that point and had done everything two or three times over. I really just wanted to focus on making art. To me, the term graffiti art is an oxymoron. Graffiti does its own thing; it doesn't need to aspire to anything more than graffiti. It's cool if it does, but I think calling yourself a graffiti artist places an unnecessary burden on you. You're probably not going to make that good graffiti, and you're probably not going to make that good art if you're trying to do both at the same time.
So what are your thoughts on the whole street art scene? Do you view it with suspicion?
Nah, street art's fine. If you call yourself a street artist, that's good. Get yourself behind the fence and wait for the zookeeper to come and feed you. I like the concept of putting art on the street. But the whole problem with the street art thing is that, for the most part, it's just like, 'Yo, we're doing something illegal! It's crazy! Society can't hold us! We're getting in your face with our characters and our interesting editorial cartoons online!' It's such a hustle because, come on, nobody's really mad at wheatpaste. There are guys in New York that put up wheatpaste for bands and for movies, and they make $100,000 a year. You know, they're paid a dollar a post, and they try to put up two thousand posts a week. I'm not impressed by any of that. Nobody's really that impressed. The only people that are impressed are the people that do it.
So claiming that you've got this cute character that everybody says they can identify with—it's just really cynical to me. All of that stuff falls to the side. It doesn't matter. The upper echelon dudes with design political posters and a strong following behind them—I think they're going to make it. They're going to be the Peter Max of our generation. But a lot of other people are just going to be caught in the undertow looking for the next thing to jump on.
I'm outside of all of that. You know, I'm an outsider to the outsiders. I'm just trying to make good paintings, make solid visual communications in paint on metal. Street cred? I don't want to hear about it. Graff art? I don't want to hear about it. Street art? Who cares? That's the history of art, of visual expressionists—thousands of years old. I don't think anybody's done it better since those cave paintings in Lascaux, France.
There's a project you co curated at Coney Island called 'The Dreamland Artists Club', where you got professional artists to help local merchants by repainting their signs. How did that project come about?
I'd been going down to Coney Island since early this past decade, taking pictures, working directly, stealing colour schemes, borrowing whatever I could from this really unique visual landscape and putting it into my work. At some point in 2002 or 2003, I saw that the signs I loved were being torn down and replaced by just cheap vinyl output with no human feeling to it. At that moment I just said, 'This has to stop.' Once they started eliminating my competition and replacing it with crap vinyl signs, I started offering my services down there.
In Dick Zigun, I had somebody on the inside of the community, which was really important. Another artist, Nathan Smith, and I painted one sign, then we painted another, and then Creative Time through its president, Anne Pasternak, became involved. So, long story short: Creative Time used their muscle to get 40 people down there to paint signs for the first year. The second year, we opened up a sign shop in the neighbourhood, which led to a whole other wonderful, weird side thing, where I almost became a carny. By the end, we got about 80 or 90 signs painted. We didn't take a nickel for it, but we did a lot to keep Coney Island as weird and as idiosyncratic as possible.
Now there's a tug of war between the city and the developers. Both have terrible ideas of what they want, and the place is going to be far different than it was. But for the few years we were at Coney Island, we highlighted the visual character that was important to us, we reinforced it and we extended it. We really had a moment there that's never going to come back.
So in that sense you were providing a real community service.
It's going back to what I did with the grates, but it's so much more than that. It's all a matter of attitude. I think Coney Island represents the antithesis of much of the whole street art thing. You have power, you have real power. If you can make somebody turn their head and look at your dumb thing on the wall, you have a power and a responsibility to that. And you can do something really cool with it. Or you can just camp out on the corner and stencil your rollerblading terrorist or wheatpaste your Iraqi war soldier moonwalking, and in six months you can have a book with Drago or whatever and you're off and running. Then you're just waiting for Jonathan LeVine to return your calls.