Ana Bagayan should need no introduction to regular readers of AM, her stunning portraiture and contemporary figurative work being a regular feature here as her work continues to evolve with each and every new show. Entitled "Flutter", Ana's latest solo exhibition and her first body of work to be shown overseas, opens this weekend on Saturday 8th May at Rome's Mondo Bizzaro Gallery.
We caught up with Ana ahead of the opening. Read on for our interview and some further preview images after the jump.
Arrested Motion (AM): We've been watching your paintings evolve over the last few years. Your recent work deals with portraiture with a twist of surrealism tied into the composition and setting, whereas your earlier work consisted more of a pure pop surrealism aesthetic. A more muted colour palette has replaced the vivid colours you used previously. What was it that signaled the change in your work into it's more mature form as we see today?
Ana Bagayan (AB): In order for my work to grow, I had to work out of my comfort zone. I was used to working very small and when I decided to paint on a larger scale, all the flaws in my drawing were amplified. Suddenly, an eye being in the wrong place which may have gone unnoticed in a small painting would stick out like a sore thumb in a large portrait. I devoted a lot of time to drawing the face and making sure everything was where it needed to be before starting a painting. The paintings started becoming more realistic, as well as the surrounding environments and animals. The muted color palette was a natural progression as well. I didn't want to fall into the realm of photorealism, so I had to make sure the colors would set a serene but uneasy tone. The colors in my Flutter show are more saturated than the last couple shows I had though.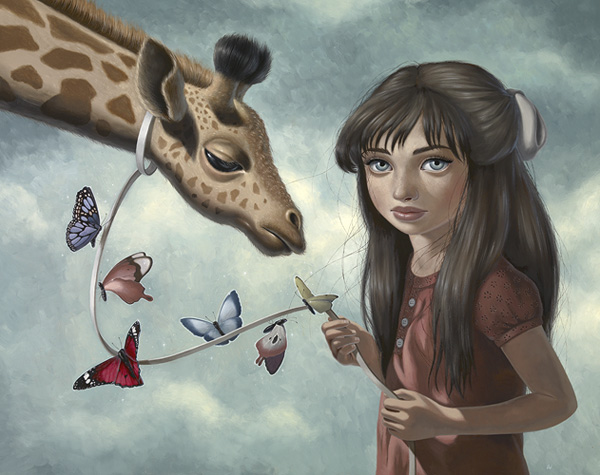 AM: Your drawings are superbly detailed and exquisitely rendered. You seem to evolve some of the ideas we've seen in your drawings into paintings. Does it often happen that a finished drawing rather than a sketch will start off the painting process for you?
AB: Thank you. I've been learning so much about myself and my work the last couple years, that my drawing and painting processes keep changing. When I started doing the Orphan portraits for Baby Tattooville, they were never meant to turn into paintings, they were about me obsessively trying to refine the faces in my paintings. After getting over my fears of drawing, I've started enjoying doing more involved drawings. When I sit down to draw, I rarely have an idea of what I'm going to draw. I start with the face and the narrative grows from there. The paintings from my Critters show had no finished drawings or even a refined sketch. I usually do the drawings for a show after the paintings are finished and they're a hint what direction I'm going next with the paintings.
AM: What has been your most challenging painting you've created to date? What were the reasons that you found this to be a particular challenge?
AB: I've been pondering this for a while and I think the paintings I usually have a hard time with are the illustrations. When I'm working on personal pieces, I know that if I can have everything worked out before I start painting, it will be smooth sailing. The painting part itself is the easiest and most fun part for me.
AM: Mark Ryden and Marion Peck seem to be artists that may have inspired you and your work in the past, but your paintings are distinctly of your own style – I think that an Ana Bagayan painting can be identified instantly. Where do your other inspirations lie?
AB: I am happy that you say that because I've worked hard the last few years to find a style that feels my own. I know I still want to try new things and will continue to grow until I can look back at a show and be happy with all the pieces, if that will ever happen.
As far as other inspiration…where to begin? I guess I can start with my collections of images that are devouring my computer. I have a big collection of fashion photography, pictures of dolls, animals, landscapes, movie stills and anything I come across on the internet that strikes my fancy. I take pictures when I'm strolling through flea markets, museums, while traveling, to make sure I don't forget a moment that might have inspired an idea for a painting. Some of my favorite photographers are Tim Walker, Eugenio Recuenco, Nick Waplington, Elena Sudakova, Chadwick Tyler, Serge Luten. I go to a lot of art shows and have a lot of favorite artists but I try not to look at paintings for inspiration.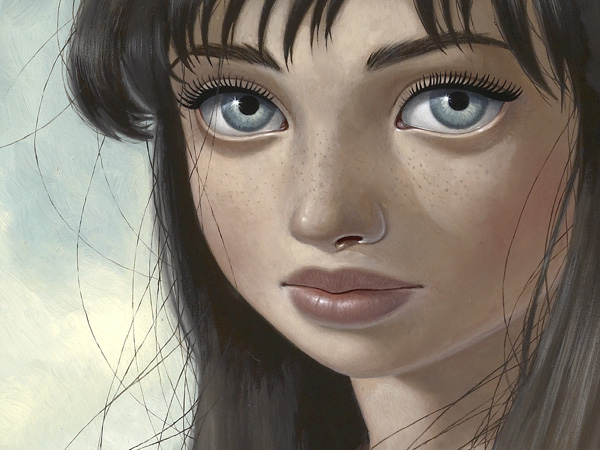 AM: You seem to enjoy a healthy mix of fine art painting with commercial work. How does this split out currently, and how do you manage the commercial side of things when you are making a body of work for an exhibition? I expect you need to be 'in the zone' when working towards a show…
AB: I went to school for illustration but I was around instructors that were also showing at galleries and loved going to their shows. Rob Clayton had suggested that I submit work to the group show at La Luz de Jesus and that was what jump started my gallery endeavor. I've tried juggling both illustration and fine art but when I have a show to work on, I ask my illustration rep to allow me to take a break so I can focus on the show. Magnet Reps works with a lot of illustrators that also show at galleries so they have been very understanding and easy to work with when it comes to my gallery schedule.
AM: Some of your earlier work had an historical Eastern European feel to it, particularly with the clothes and settings you used – kind of like a modern day pop-surreal take on a Grimm's fairy tale illustration. Your family moved from Yerevan in Armenia to the United States when you were very young. Do you feel that your genealogy informs your work in any way? Do you hold any memories of living in Armenia from your childhood?
AB: I've always tried incorporating pieces of my experiences in Armenia in my paintings. I don't remember a lot because I was only six when we moved here but luckily my parents had saved my school books and brought them with us. They were filled with amazing illustrations of Soviet propaganda and I knew I had to use them in some way. I devoted my Clubhouse Machination show at La Luz de Jesus to just that. I used some of the imagery from the books and created a bird army as the antagonists in the paintings.
AM: How do your current surroundings in Burbank influence and inform your work?
AB: I try to avoid going to Burbank as much as possible.
AM: You are soon to head off to Rome for the opening of your solo show 'Flutter' at Mondo Bizzarro Gallery. Tell us a little about the show and how you arrived at the title?
AB: The painting with the giraffe was originally a drawing in my Critters show. That was the first piece I painted for Flutter and after noticing I had been painting small flying creatures in a lot of the other paintings, I thought it was a fitting title for the show. The pieces are more colorful than my previous work and loosely based on fairy tales and stories. I like taking elements from my favorite stories out of context and creating a new narrative. When I was young, my mom would read us stories by projecting slides on the wall and narrating them. I only remember bits and pieces of the stories and wouldn't be able to tell you what they were about exactly and the paintings in this show make me feel a little nostalgic to those years.
AM: Have you visited Rome previously? It's a wonderful city, but almost too-full of magnificent sights. I found myself becoming a little jaded after stumbling upon yet another ancient Roman monument! Do you have any particular plans for must-sees whilst you are there?

AB: I've been there once before on a tour with family members so I am excited to see it again on my own. I am looking forward to visiting some of the more touristy sights like the ruins and the Colosseum. There is a Caravaggio exhibit at the Scuderie del Quirinale that I am excited to see. I will also be eating a lot of Nutella.
AM: Do you enjoy traveling just for travelings' sake? I know you just recently visited Scotland for a vacation…
AB: Yes, I love it. Scotland was a spontaneous idea my friend and I had. We went there with no expectations and it turned out to be so amazing that we want to live/work there for a few months. My next solo show is in December in Germany and it will be only drawings so it will be easy for me to work from anywhere if I decide to leave the country again.
AM: There appears to be a a heavy use of symbolism within this new body of work – for example the fish bone necklace in 'Small Talk' and the Crocodile with the pocket-watch in 'Tick-Tock Clock'. Can you explain these devices and how you arrived at using them?
AB: Tick Tock Clock is a portrait of Wendy from Peter so the crocodile and watch are imagery from the story. The fish bone necklace as well as the bird skeleton from my Death's Knell painting are things that I'm personally interested in. I have a habit of finding and preserving dead birds and insects that I find in my neighborhood. I never go out looking for them, I just come across them all the time. I have been too squeamish to allow beetles to eat away at my baby birds to get to the skeleton so I also collect bronze cast necklaces of skeletons. I have the fish, a frog, and a hummingbird so far. Small Talk is an homage to the life my little friends might have had.
AM: Animals are portrayed in all but one of the paintings in the exhibition. I find it interesting that you choose to convey emotion within the work through the the use of animals. What is that attracts you to use animals within the subject matter?
AB: Animals are universal. Any culture can relate to the animal kingdom, while only a small number of people can relate to the figures I paint. They've been used in fables, stories and painting since the beginning of time to portray human characteristics and behaviors for that reason. Aside from that, I love painting fur, hair, shine, feathers, etc., and these little critters provide me with an abundance of textures for my painting pleasure.
AM: You've been experimenting with altering the face shapes you use in recent times. How do you compose the faces of your subjects? Do you use references or do you conceive the subjects entirely from your imagination?
AB: Some of the faces are from reference and some are invented. Being at the studio in front of my computer makes it easy to think I need reference before starting a drawing, but drawing while traveling or when I'm outside of my studio made me realize having reference is not necessary. However, when I'm painting, I have a mannequin head that I use for lighting to create natural shadows instead of searching for a picture to match my drawing. I can rarely draw the exact same thing twice and its always a happy accident when I come across a new face shape.
AM: You seem to be coming close to self portraiture in some of the pieces for the 'Flutter' show, especially within the title piece and also 'Plant'. Is there any of you within these paintings, or I am off the mark here?
AB: I've never intentionally painted myself but I suppose they are all self-portraits. I think a lot of artists get asked this question. We put so much of ourselves into the work that they start looking like us, or vice versa.
AM: You use oil paint to create your pieces, so I guess you have multiple paintings in progress at any one time. Have you always worked with oils? How long did the creation of the work within the 'Flutter' exhibition take to produce?
AB: I had a few acrylic paintings when I first started showing but I switched to oil paints quickly. I use thin coats of oil similar to how I worked with acrylic so it wasn't a big change. The oil paints are richer in color and much better for blending.
Flutter was about 5 months of work, along with a few illustration projects I did early in the year. The larger paintings take about two weeks to paint so I can average 2-3 paintings a month if I work on them at once.
AM: We've been watching your 'Lunch Bunch Co' blog since you started it up in June of last year. I think it's an extraordinary and selfless thing that you and your friend Mere do to help the homeless population of Los Angeles. Can you give a little background to 'Lunch Bunch Co' and what it was that motivated you to start providing food for the homeless?
AB: It's almost our one year anniversary! On my birthday, May 31st, my boyfriend and I were getting dinner and we bought an extra meal to give out on the way home. The person I ended up giving the meal to left a big impression on me and a couple days later Mere and I decided to go grocery shopping and make sandwiches at home and passed them out to the homeless in Hollywood. Our first day was so heartbreaking and amazing at the same time, we knew we couldn't stop at just one day. The reason we wanted to create our own group is so that we can reach people that don't live near shelters and can't easily access food and other necessities. We have a route that we follow now for the first half of the trip so we can visit our regulars, and then we drive to skid row and pass out the rest of the meals there.
AM: I understand that you are organizing a second benefit auction to help fund 'Lunch Bunch Co' in May. Do you have further details for anyone who wants to donate something for the auction or make a financial contribution to what you do?
AB: Our last ebay auction was such a success, we are looking forward to the next one in June. We are so thankful for the art community, I'm not sure where we would have gotten funding for Lunch Bunch if it wasn't for the artists and collectors that donated their work and time. We are waiting to set the final date until we receive all the submitted artwork. The submission deadline May 20th.
I think we are going to have more originals this time! Some of the artists that we have on board are Scott Musgrove, Amy Sol, Daniel Lim, Daniel Elson, Lola, Joshua Petker, Dan Barry, Edward Robin Colonel, Peter Chan, Heidi Alamanda, Shepard Fairey, Sara Louise Tucker, and Peter Micocci, and Loretta Gonzalez.
To donate artwork to Lunch Bunch just email us for the shipping address. [email protected]
We are accepting both prints and originals of any kind!
AM: Many thanks for taking the time to speak to us Ana. We wish you every success in Rome.
AB: Thank you!
Discuss Ana Bagayan here. Discuss this show here.
Studio photographs courtesy of Ara Devejian