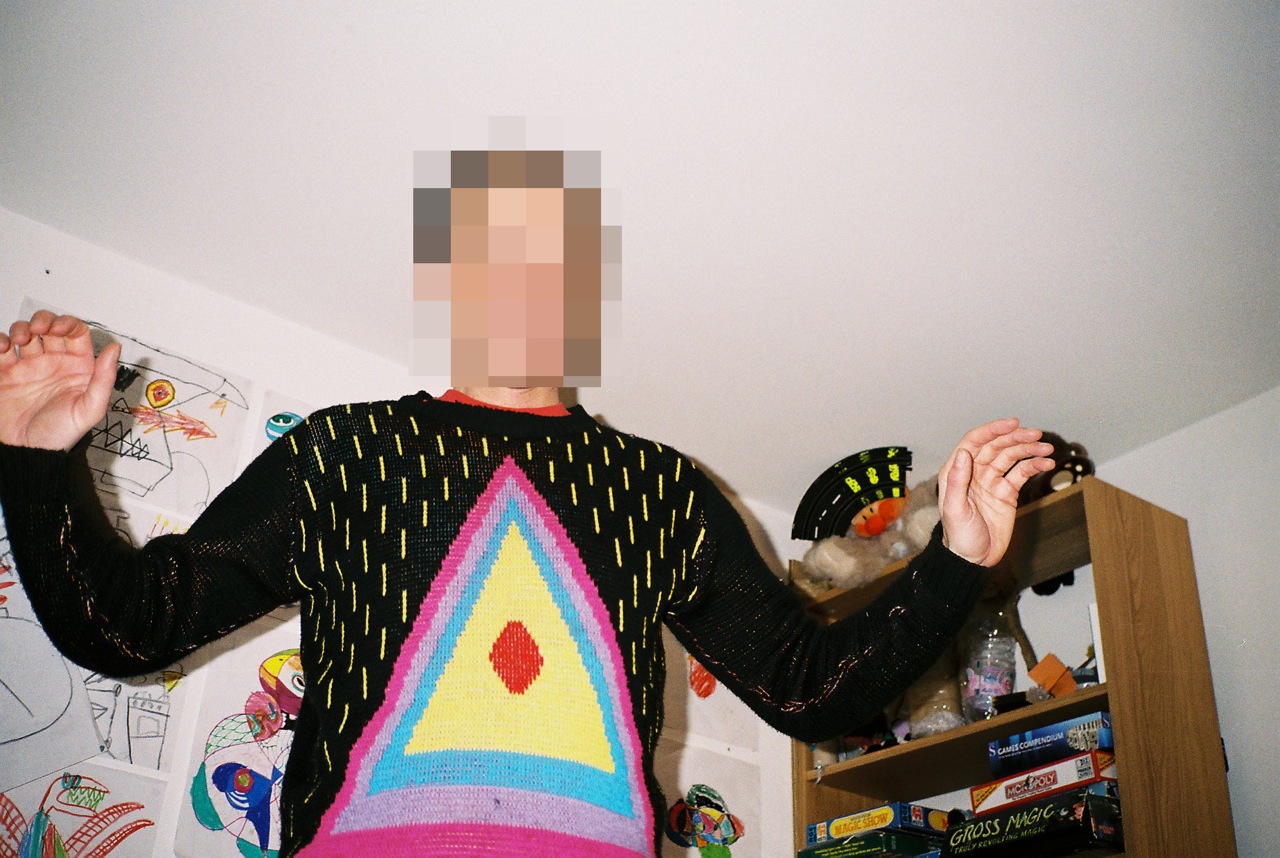 AM heard some sad news a couple of weeks ago that Burning Candy member Rowdy lost just about everything he owned in a fire that destroyed his home and painting studio. Rowdy had popped out of his flat in Bristol for a short time only to return and find the building engulfed in flames. In a moment, everything was gone – even one of his most prized possessions, this piece of sartorial elegance, the psychedelic church sweater seen in the picture above sent onto us by Lucas Price (Interviewed).
Much loved and respected in the Bristol scene and beyond, friends of Rowdy were quick to jump to his aid and Steal from Work have rounded up the support of a huge list of artists and galleries including Banksy, Paul Insect, Swoon, Sickboy, Hush, Espo, Black Rat Press, the whole Burning Candy crew and a whole lot more to contribute to a fundraising auction 'The Rowdy Rooftop Burner Fund'.
Check out the full list of artists, the details of the auction and our interview with Rowdy after the jump.
Arrested Motion (AM): Firstly to say Rowdy, we were saddened to hear about the fire. Have you found yourself a new permanent place to live yet?
Rowdy: No, I am taking some time out to travel a little. Luckily, some friends abroad have a house they need to sell. I am helping with that and doing some gardening in exchange for a roof.
AM: Can you tell us what happened? I understand you only briefly popped out for a half hour…?
Rowdy: It was probably about an hour and a half, had just gone out for a Sunday walk with a friend, when the calls started coming in. So rushed back to the place to see the street crawling with cops and firemen. I knew straight away everything was fucked. When you have as much spray as I had it ain't going to help, it took the roof off!
AM: We hear that you lost just about everything in the fire – your possessions, paintings and also all of your materials too. Did you have any kind of insurance? Can you tell us about any of your irreplaceable things, now gone? Lucas sent us a picture of your psychedelic church sweater….
Rowdy: Insurance? No, generally try to avoid that type of thing. I lost all my clothes, books, records, all my tools and paints. Not to mention a big chunk of last years Sartorial show in London. Then you got your own personal art collection and photographs. Obviously the jumper was a great loss, but then I still got stuff runnin' on the street, and no one was hurt!
AM: Did you get to go back into the flat after the fire was extinguished? What did the scene look like?
Rowdy: Man, me and my girlfriend went in two days after the fire. I wasn't even sure I wanted to see it. Some of the building was completely unaffected so we could climb the stairs and when we got to my bit, well, you could look up and see sky and look down into other floors. There were a few beams here and there, but nothing else really, though in one corner I could see some burned vinyl – the 2 singed covers I could see were a Planet Rock remix and Primal Scream's "Vanishing Point", so I took my cue! In fact, the place was still smoldering so the fire brigade were called for their 3rd attempt to stop it.
AM: How did the idea for the Rooftop Burner fund come about?
Rowdy: Basically, I told a couple of friends that night what had happened that I would need some clothes and somewhere to crash for a bit. Unknown to me, Lucas decided to take the call for help somewhat further by contacting various artists to see if they could donate works, which they readily agreed to, also Jono at Steal From Work set up the structure and is steering this thing along. Amazing, strange, unexpected. I am normally very reluctant to ask for help.
AM: It must be inspiring to see a healthy list of friends helping out by either organising or contributing towards the auction….
Rowdy: It's quite overwhelming really, so many people. As Filthy Luker once said "It's the Art Form, that just keeps giving".
AM: Even though your place was damaged, I suppose that doesn't keep you off the streets. Have you been out painting with any of the other Burning Candy guys recently?
Rowdy: To be honest, it has really thrown me off. I've been doing a couple of print designs and a little canvas work. Street work is partly about confidence and what your willing to lose as well as gain – lady luck plays a part too. I do very much want to get back to it, so I am hatching plans. It seems like a new start; I guess I am just taking stock, re-building. Just want to start out again on a fresh ambitious tip.
AM: Each of the BC crew bring their own distinctive style and, with most of you, character based work to both individual and collaborative street works. Where did the inspiration for the crocodile you frequently use outdoors originate?
Rowdy: The first croc was on a quarry rock. I just liked its primitive vibe. I'd always been into both characters and lettering but since the croc and joining BC, I kind of just focus on characters more. I guess you can say the inspiration comes from Barcelona people like Pez.
AM: For your studio / gallery work, you use two distinctive styles in your painting – the over the top cityscapes and then also the subtle and refined abstract pieces. What influences you to paint in the different styles? Does a take a special moment of un-Rowdyness to bust out the abstracts?
Rowdy: Well, sometimes you got to try and relax. I get so bored looking at the same thing. Often with the abstract work, I do not know how it's going to turn out, I like to try and surprise myself. If I have several on the go at once I can get really lost in there for a while, i guess It just keeps me nicely occupied , instead of when I am more representational and everything seems to have it's place.
AM: As an artist, how do you view the balance between working on the streets and working in a studio? What do the two different arenas do for you on a personal level?
Rowdy: Studio? Hmmm. I think the fact is most writers probably don't need a studio. Perhaps I should ride it out as long as possible not having one then ideally I would get up more – it's the "starvation factor" or "grass is always greener".
AM: You've got your work into some really daring and difficult to reach spots. What is the most precarious situation you've found yourself in?
Rowdy: I did a rooftop on a wet night in Hackney Wick with Sweet Toof and the ledge was only a couple of feet wide. I remember nearly falling backwards, rotating my arms a few times to steady my balance and luckily, I did not fall off the roof! Cyclops had already walked into the canal that night and he decided that was enough for him.
AM: What's the next part of the plan to getting back on track? Do you have any current projects that you need to start in the studio again with?
Rowdy: Painting in various cities around Europe should make me happy. Sometimes, it's a logistical nightmare. The whole painting analogy is like fishing, and right now, I am walking out the desert.
AM: Many thanks for your time Rowdy. We hope that the auction goes well for you and that you find yourself back in action soon!
Here's the full details of the auction:
The Auction will be via e-bay at: http://myworld.ebay.co.uk/stealfromwork
Artists and contributors –
Banksy, Case, Cept, Cyclops, Dan, Dscreet, Haka, Gold Peg, Guy Denning, Herakut, Hush, LL Brainwashed, Mighty Monkey, Motorboy, Mr Jago, Paris, Paul Insect, Sepr, Sickboy, SPQR, Static, Stickee, Sweet Toof, Swoon, Tek33, Tom Hine, 3Dom, 45rpm, More still to be announced.
And also huge thanks to the following galleries for donating:
Black Rat Projects
Campbarbossa
Pictures On Walls
The first items in the auction start 24th June and will be added in a staggered manner. The first items ends Sunday 4th July. Bid high for a good cause!
Pictures of Rowdy's outdoor work by mr. eightyse7en. cheers!
Discuss Rowdy here.