A few weekends back in Los Angeles, Luis De Jesus opened a group exhibition entitled Dualities, Omissions, Loops, and Ruptures, featuring local artists Chris Engman, Cody Trepte, Samantha Roth, and John Houck. The cleverly curated grouping brought together four artists as disparate in technique as they are unified in purpose, collectively weaving between photography, film, drawing, print, and sculpture in order to explore ideas of "constructed realities" and "emotional dualities" in their own individual ways.
Check out some additional commentary and a selection of installation shots after the jump.
Perhaps most compelling of the bunch was the work of experimental photographer and sculptor John Houck. First forged last year, the Aggregate series utilizes custom written computer programs that allow the artist – and occasional mathematics lecturer – to generate every combination of a given grid system possible,  whereupon Houck specifies how many rows and columns to compose the grid in a particular work and selects any number of colors to fill it. From there, he creases the paper, lights it in a studio, photographs it from above, ultimately repeating this process three or four times before completion.
The resulting smartly crafted work of art is then creased one last time, thus creating actual three-dimensionality to the illusory paper gyrations produced at the elemental level through his signature process. Not to discount in anyway the mesmerizing aesthetic qualities to the series, as the purely visual "this is something special" test checks out. But this is one of the rare cases where concept and process almost prove more paramount to the overall compelling nature and success of the work – a metric of tangible success perhaps being the immediate sell-out of all the work form the exhibition. Arguably, the most exciting element of Houck's work when taking into consideration the level of thought and effort put into the Aggregate series is that this only his first fully formed artistic idea, a mere scratching of the proverbial surface with more viscerally enticing works undoubtedly in seed mode in his studio.
The exhibition runs for another two and a half weeks at the Los Angeles gallery. Not only is it worth attending for Houck's work alone, but his supporting cast, especially Chris Engman's incredible outdoor installations, serve to round things out nicely. If you're in the area, be sure to get out before it comes down on Sunday, April 7th.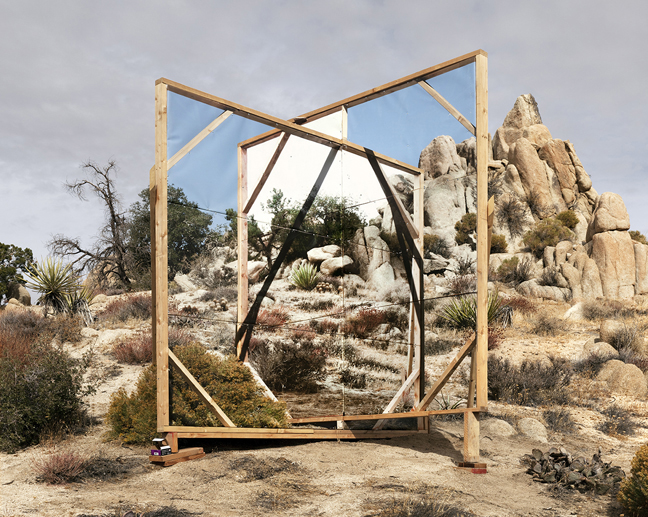 Discuss John Houck here.