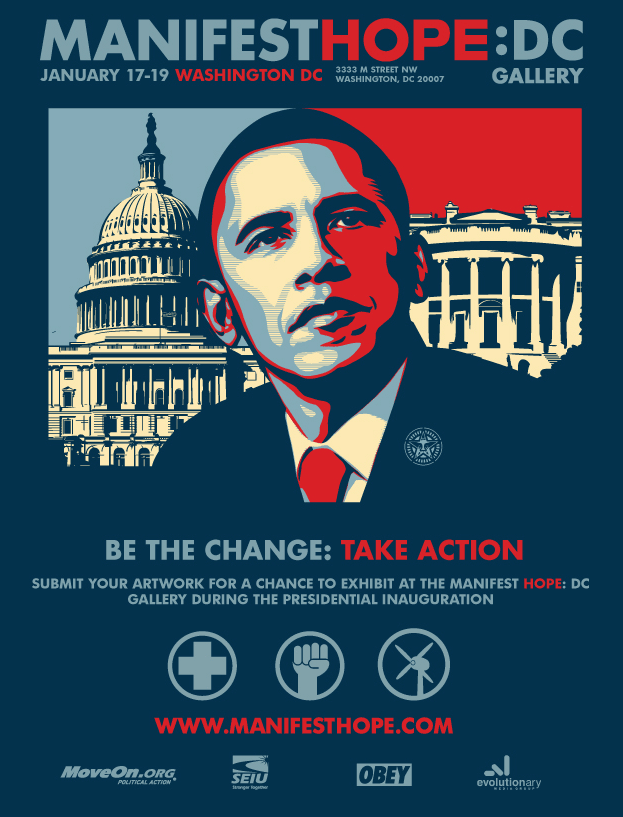 As previously mentioned (here), Manifest Hope will be making a pop-up gallery stop in Washington D.C. the weekend preceding the Presidential Inauguration:Â January 17th-19th. Much like its incredibly successful Denver predecessor, Manifest Hope: DC is offering a chance to participate in the show and exhibit their artwork besides renowned artists such as Shepard Fairey, Ron English, David Choe, and Gary Baseman.
Looking to capture the creative energy which fueled Barack Obama's unprecedented grass roots campaign; this contest will have themed categories: Manifest Change, Manifest Unity, Manifest Opportunity. The submissions can be any medium of art: painting, sculpture, collage – any 2D or 3D creation which convey the contest's three themes. 5 winners will be selected from each of the three themes with 15 winners in total as opposed to just 5 winners from the Denver exhibition.
So channel your inner artist and share your talent with the world, but you better get a jump on it, because the deadline to enter your work is 11:59am EST on January 9th! Get all the details of the contest here. Submit your entry here.