Like something out of a lucid dream, Chris Berens' paintings are as enigmatic and imaginative as they come. Both from a technical perspective as well as an aesthetic viewpoint, there is something wonderfully amorphous and endless about his work. His art appears as sinister as it does beautiful, teetering that fantastical line between foreign yet familiar, gorgeous yet grotesque, bizarre yet natural. With certain elements appearing crystal clear and others blurred, it's as if they were representations of a person attempting to transcribe the images nestled deep within one's subconscious that only come out an play while asleep, certain parts recalled more vividly while others remain a bit foggy, certain parts demented with others angelic.
More photos after the jump.
As an amalgam of these conceptual and figurative juxtapositions, their compositions also revolve around an equally impressive number of individual parts forming a collective whole. To say Berens' technique is unique would be a vast understatement. Despite their deceptive appearance, all the pieces are original paintings, created by hand without the use of a digital or photographic tools. Utilizing glossy photo paper, Chris uses ink – not acrylic or oil paint – to create the image he wants. The photo paper is then heated, which allows the ink to settle into the paper's plastic coating. The paper is then removed, leaving the inked image on the clear coating, which is then collaged onto a wood panel. This highly original and methodical process is repeated multiple times for the same image, so that each element on a finished painting is composed of the same image painted identically many different times and collaged together perfectly. So for example, one person or animal in a particular painting could be the end result of 6 layers of identically rendered ink images collaged upon one another. After countless hours, this meticulous procedure, like a mad scientist toiling away with his experiment, creates a look and feel unlike anything I have ever seen before. In this case, the payoff truly is worth the effort.
In his first exhibit on US soil, Chris Berens is introducing himself to a new contingent of collectors with a bang. With 30 paintings, "Go West" is loosely based around his journey from Amsterdam, where he has had four critically acclaimed, sold-out shows at well known contemporary art venues, to Seattle, where he hopes to strike a deep chord with anyone willing to take moment and get lost in his work; something which will occur quite effortlessly if given the chance. Opening at Roq La Rue Gallery on December 12th, this body of work should reek havoc on unsuspecting eyes and ill-equipped minds, but in good way, like Terry Gilliam's writing/filmmaking at it's best. If you're in Seattle, I would highly recommend checking this work out in person (and boy will we at AM be jealous). But it might not be a bad thing to bring along a helmet and a set of goggles, just for safety sake. You never know what could happen when viewing works like these!?!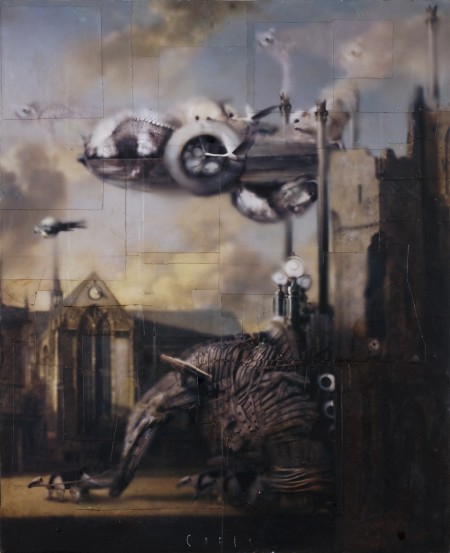 Embedded through this article are some select pieces from "Go West" that Kirsten from Roq La Rue kindly provided. If the work interests you, feel free to shoot over an email to her and request to be placed on the wait/preview list.