Dan May's show "Slow Collison" opens this Saturday, February 7th at Copro Nason.  His lush environments and monsters are as eye catching now as they were when we first saw his work on flickr several years ago.  Of course, his work has evolved and become more rich with fantastic compositiona and "story-telling."  Dan takes some time to answer some questions for us about his current show as well as plans for the rest of 2009.  Check the interview and some preview pics after the jump.
Arrested Motion (AM): Tell us a little about this show and the title you chose "Slow Collision." Any specific themes or messages that your were trying to get across to the audience?
Dan May (DM): The title came about early on while preparing for the show. I usually just begin painting and see what direction the work takes me. The past year has been quite the roller coster ride for me. There have been some wonderful highs, as well as some rough patches along the way. The one thing that has remained constant was creating new work each and everyday. Once I got into this new body of work, I noticed that the world I've been working to shape in my paintings was colliding with my life in a unique and exciting way. Not only were things colliding on a personal level, but they began to collide technically as well. I found myself bringing together many key elements in my paintings… the wispy grass & flora, translucent figures, amorphic creatures, loose brush strokes and fine details were also on somewhat of a collision course. Once I began to examine where things where headed, the title 'Slow Collision' seemed to sum things up perfectly… plus it had a nice poetic ring to it which I liked! Because my work is rooted in my thoughts & dreams, and heavily influenced by my personal life, it most certainly holds a multitude of meaning to me. That being said, I think my work is ambiguous enough that others can view it and find their own personal message, or how it might relate to their life…. at least that's my hope!
AM: In this day and age, most people wonder how they lived without the internet in the past. I remember that the first time I saw your art was on flickr. I always admired how you were so prolific and were able to keep updating your photostream with new paintings. How do you think the internet has affected the dissemination and market for art? In particular, how do you think it has affected your own growth as an artist?
DM: I could not agree more… I seem to have forgotten how we did things even just a few years ago. The internet never ceases to amaze me, and its impact on the art world is exponential! Can you imagine what the the great masters would have thought of it? It's so fascinating to know that one can live just about anywhere with an internet connection, create art, post it to various sites, and people can enjoy & discuss it instantaneously. Of course, there's nothing quite like experiencing art in the flesh, but it's the next best thing. As far a direct impact on my own work, I'd have to say that the internet is one of the best things that ever happened. Without it, I probably would not be be showing my work in galleries around the world. I started off in the field of illustration and kind of fell into the gallery world by accident. My work was posted on a blog somewhere and I was asked via email to take part in a group show. I've been showing my work ever since!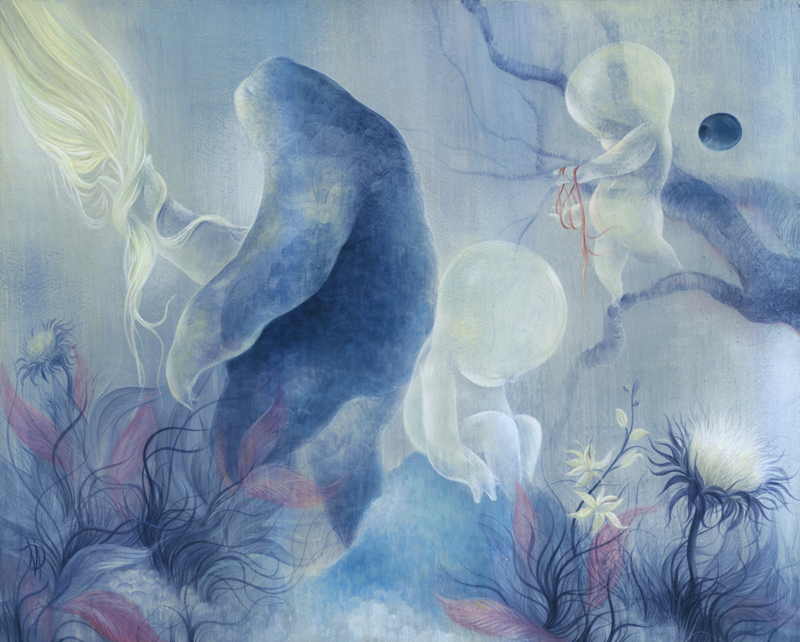 AM: We noticed that there seem to be more humanoid and ghostly forms in this body of work. Was that a conscious decision or was there a reason behind this?
DM: I'd been painting both ghostly forms and human figures to varying degrees throughout my work, both in my illustration & personal work. This show was about bringing it all together… so yeah, there was definitely a conscious effort to create work merging these elements.
AM: I was pleasantly surprised one day, walking into a bookstore and seeing your cover art for Miyuki Miiyabe's book "Brave Story." How is illustration work different than gallery work? Any plans for other illustrations?
DM: Ha! Yeah, I painted that cover back in late 2006. It was a super project to work on. Outside of including a few key characters, I had free reign to run wild with that piece. I love getting assignments that allow for such creative freedom. I'm actually doing a follow up book from that series titled 'The Book Of Heroes' also by Miyuki Miiyabe. As far as other illustration work goes, I have a few main clients that I work with from time to time, but the personal work has definitely taken a front seat… and that's really exciting to me.
AM: Can you share with us some of the projects and shows you have lined up for 2009?
DM: Well, 2009 looks to be a jam packed year. I have a slue of cool group shows coming up, some exciting print/product/book releases, and I'll be building toward my next solo show. I also have plans to experiment with some sculptural work. I'd really like to try and bring some of these creatures out of my paintings and into our world… literally!
See all the pieces from Dan May's show here.
Discuss this show here.
Discuss Dan May here.