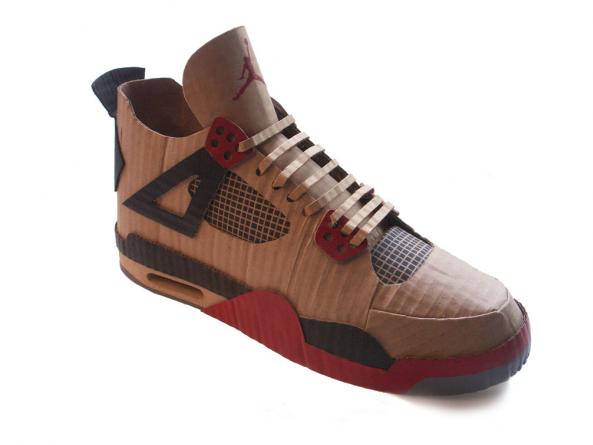 Seattle based artist Mike Leavitt is opening up his show "Don't Stop Object Shopping" in New York at the Fuse Gallery on March 21st. His versatility as almost a modern day renaissance man, working in many different mediums and art forms, has always impressed us but in particular his Art Army figures and more recently, his cardboard shoes have caught our eye. Luckily, many examples of both series will be on display for this exhibition. He talks about his work among other things in an interview with us, after the jump…
Arrested Motion (AM): Can you tell us a little bit this body of work for your show at Fuse Gallery?
Mike Leavitt (ML): The biggest set of work is the new cardboard shoes. These are aimed at examining consumerism and the current state of the economy. As luck would have it, most of my work over the past few years is very closely related. Many of these other projects will also show. My "Art Army" hand-made action figures were originally conceived as a satire on the co-modification of art. My "ArtCard" trading cards of artists also germinated from this interest in easily-sold collectibles. Since pitting myself against the challenge of making a living with my art, often independent from the mainstream art market and commercial galleries, commercial viability is a theme threaded through my subject matter.
AM: You are a man of many talents. We can't even begin to name all the different realms of art you have explored – sculptures in different mediums (wood, clay, cardboard), painting, live art, architecture, and more. How do you find time to be so prolific? Any favorites?
ML: I don't find time. I make it. I bust as much ass as possible to sell enough work in order to buy myself time to keep experimenting and taking risks. I don't have any mass productions available yet, so I don't have the luxury of proceeds from prints and limited edition toys. I have to earn every dollar by making everything by hand, no interns and no out-sourced manufacturing. Fortunately, low production costs and a comfortably modest lifestyle keep my overhead really low.
Right now (obviously) my favorites are the cardboard shoes. I've found a rhythm with making them, I'm learning new fabrication tricks which I'm still excited to apply, and continue to have tons of ideas on how to expand the series. Once some of this is fleshed out, I might start to feel the limitations and my "favorites" will probably change. I have a soft spot for a few side projects that haven't been developed enough yet – the Blue Chips are one. And I LOVE carving wood. With pieces like my 3-foot Andy Warhol and 2-foot Mark Ryden, I'm working in wood to link my action figures to the more statuary, outdoor, large-scale, and public work that I'm focused on doing in the future. The 2-foot Ryden, and a few other carved wood pieces like the "Ba-Donka-Duck" and a Canon Super-8 replica, will also be in this Fuse Gallery show.
AM: Being an art website, what initially drew us to your work were your fantastic Art Army figures where sculpt famous artists and add some of the artists own signature twist to the design. How did you come up with this concept? We imagine sometimes it's can get little tricky as these are mainly tribute pieces and not always endorsed by the artist?
ML: The "Art Army" began partially from a political motivation in 2003, around the time the second Iraq War began. I envisioned the best talent ever to exist on Earth banded together as a unit to battle without weapons. The enemy was "The Man", the thief of "The Art Army's" culture for the ever-present purposes of imperialism and rampant capitalism. The other motivation was very personal. The original to-do lists grew out of my most direct influences – Pollock, Warhol, Bjork, Mingus, etc. This was an investigation of the cultural effects on my life and work.
And yes, the non-endorsed tributes can be a delicate walk on eggshells. I try to be very sensitive. This is one reasons why I'm slowly moving away from "The Art Army," along with a slightly exhausted niche and an angry political motivation serendipitously dissipated by someone named Barack Obama. With many of the more recent figures I've done of younger, very active artists, I've made great effort to show them pictures before their figure goes public. Myspace has helped me with this. Most have responded with amazing positivity. I can only think of two artists who didn't initially respond well, but I made extended diplomatic gestures and both interactions turned out wonderfully. One artist ended up buying his own figure for himself. The other came to the opening to give me a hug and a signed copy of his book.
AM: Any other projects or shows you can share with us for the rest of 2009?
ML: Almost too much too mention. Anyone can stay fully posted on my hap's via my website. I maintain it constantly, post literally every piece I do, and keep a solid heads-up on future events. I also regularly post my work and events on Myspace and Facebook.
I'm excited about more collaborations I'll be doing with a couple fellow Seattle artists, Scott Musgrove and Charles Krafft. I've collaborated with both already, and am enjoying these kinds of opportunities more and more. I have collaboration pieces with Krafft and another Seattle artist, Chris Crites, in this Fuse Gallery show. Scott Musgrove is having me sculpt a prototype to cast a large-scale version of his work. Krafft and I will be doing more ceramic collab's to prepare for our March 2010 show together at London's Stolen Space Gallery. My next show in 2009 is at M Modern in Palm Springs. Some " Art Army" side projects are custom, personalized action figures for-hire, along with formatting mini figurines for peoples' wedding cakes based on their photo's. So, among a variety of other projects I'll show, the crux of the M Modern show will be a series of celebrity wedding cake toppers. Most will be famous gay couples, to both provide humor for the Palm Springs art clientele and seriously address the status of gay marriage in California.
AM: Thanks for you time Mike and good luck with your show.
Check out all the work for the upcoming show here.
Discuss this show here.
Discuss Mike Leavitt here.