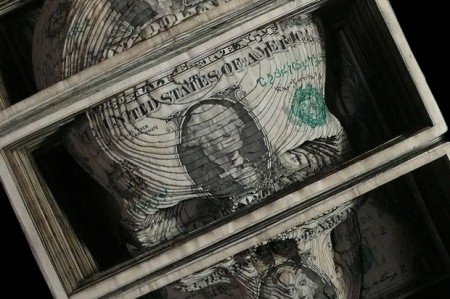 What steps might an artist take if charged with the task of rewriting monetary policy? Scott Campbell's Cut Currency series seeks to address this question, with tongue firmly implanted in cheek. Talk about adding value to an increasingly worthless piece of paper, the artist's work aims to repurpose the greenback in an imaginative and compelling manner.
The acclaimed tattoo artist turned gallery provocateur will bring his revisioning of the US Dollar, along with a host of paintings and drawings, to NYC on April 29th for a solo exhibit with OHWOW Gallery. As we find ourselves in the most dire economic situation since the Great Depression and our Government prints money as fast as the presses allow, it seems only fitting for Scott to imprint his own imagery and iconography onto the medium, rife with it's own hidden messages. Perfecting his labor intensive technique over the past two years, the currency sculptures were received with great fanfare by Miamians during his first solo exhibit at OHWOW last April. As Scott continues to push the envelop with his art and more collectors fight over his work, this show is sure to be a breath of fresh air.
More images of some previous Cut Currency pieces after the jump…
"If You Don't Belong, Don't Be Long" runs until May 29th, with an opening reception Thursday April 29th from 6 – 9 PM.
OHWOW Gallery
112 Crosby Street
New York, NY 10012