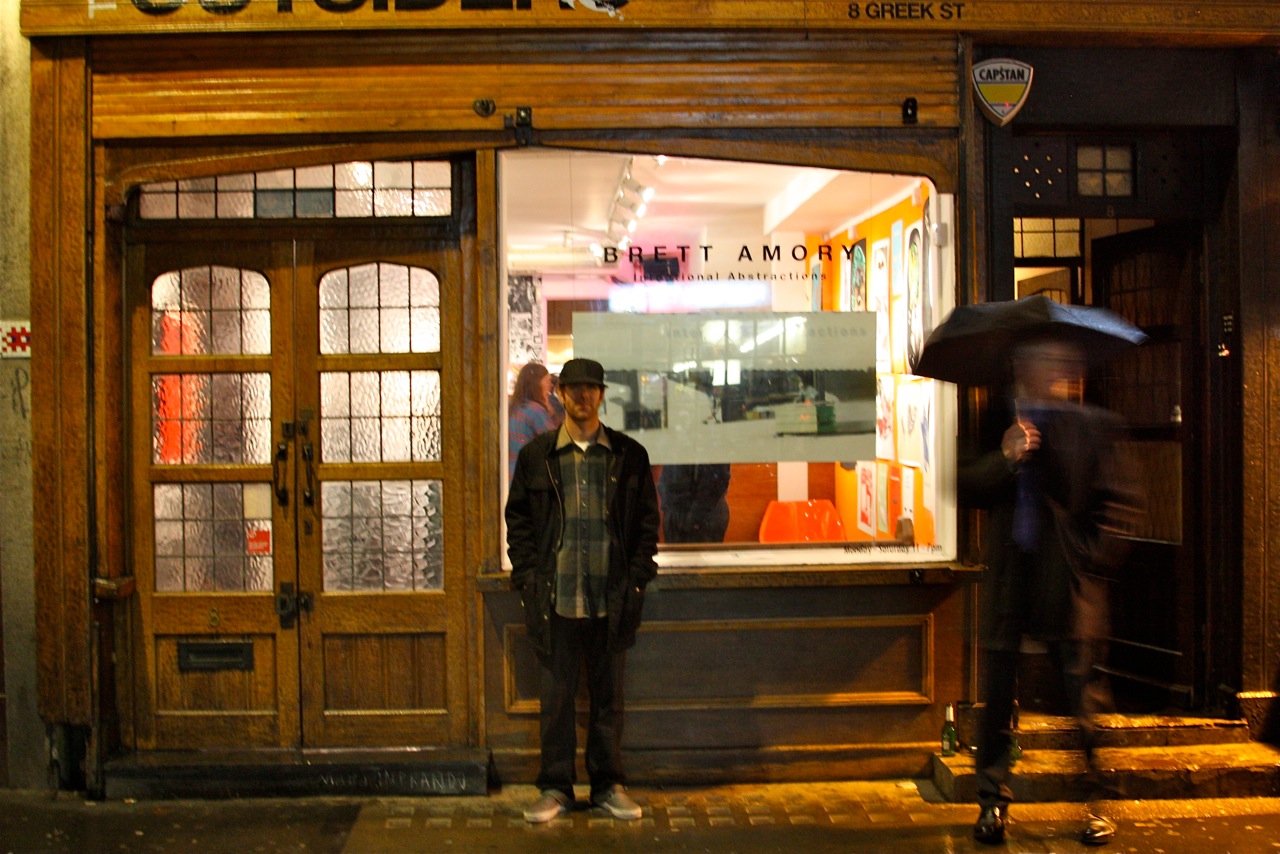 Brett Amory (interviewed) made his UK debut with style last week and AM went along to the opening of Intentional Abstractions to see his emotive work for ourselves. The Lazarides-run Outsiders Gallery has put on some great shows since the concept of this small gallery space was refocused last year. This latest exhibit shows further commitment to bringing an exciting roster of emerging art talent to its London exhibition space.
We've been admirers of Brett's work for a while, but it was good to see the Bay Area artist draw a large crowd away from home. The house was so packed when we arrived that it was hard to get a clear view of the work in the gallery, so we had to stick around after the crowd subsided to get our pictures of the large scale work on show. We recommend you catch the show in person if in London to take in some of the beautiful subtlety for yourself, but meanwhile read on for more words and pictures from the opening after the jump.
Amory's work consists of seemingly effortless brushstrokes that comprise his urban landscapes, each of which he location-scouts and photographs himself. The series of 'waiting' paintings he has been creating over recent years also feature a cast of characters Brett encounters during his daily routine. Brett explained to us that the location featured in the painting may be sourced within Los Angeles, and he may pair the building with characters found in his local Oakland neighbourhood if the two elements feel right together.
His use of negative space within the canvas shows an accomplished level of restraint, and cleverly defines the alienation of the subjects of the paintings depicted amidst their sojourn.
Amongst the landscape based work, a series of straight up figurative work is also presented. Each of these characters carries their own story and it was interesting to hear Brett relay his often multiple encounters with people from his neighbourhood. His encounter with the beautifully rendered woman holding the 'vegan' sign around her neck was quite an enchanting one – she was stood silently in an almost trance-like state outside a BART station on the most non-vegan friendly of American holidays – Thanksgiving day.
Discuss this show here.