There is no shortage of art related events at San Diego Comic-Con 2010 happening off the convention floor. After meeting your favorite artists during one of their signing events, unwind by checking out some of the excellent art shows currently on exhibit or enjoy a drink while watching some live painting. There's no better way to relax after a long day of walking around at the Con.
Get a full overview of the best art events during Comic-Con 2010 after the jump.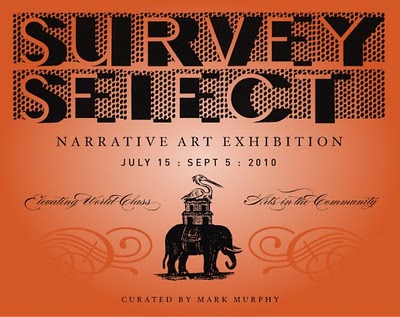 Thu, July 22nd 6:00-11:00PM
"Scribble No. 2 Film Premiere and Survey Select Art Exhibition"
Wonderhaus (old Wonderbread Factory)
Imperial Avenue (14th St. and Imperial), San Diego 92101
Premiere of the Scribble No. 2 art documentary and Comic-Con reception for the Survey Select show (opening) curated by Mark Murphy featuring work from over 65 artists including Brendan Monroe, Clayton Brothers, Dalek, James Jean, Jeff Soto, Kelsey Brookes, Mars-1, Matt Furie, Titifreak, and many more. Live music from DJ GRoy and Thesis Sahib. Note: 21+ event.
Thu, July 22nd 9:30PM-2:00AM
"Omi Unmasked"
Basic Urban Kitchen + Bar
410 Tenth Ave., San Diego 92101 / 619.531.8869
Munky King presents this event featuring live painting, music, and giveaways to "unmask" their Omi vinyl toy project. Painting live throughout the evening are Angry Woebots, David Flores, Joe Ledbetter, and Yoskay Yamamoto. Gift bags for the first 50 people!
Fri, July 23rd 6:00PM-7:00PM
"The Artist as Brand"
Room 8 (San Diego Convention Center)
Official Con programming. Join a discussion about new paradigms of creative and financial empowerment for artists, with Greg Spalenka (The Voyage of the Dawn Treader), Donato (Lord of the Rings), Tara McPherson (Faith No More, Duran Duran), Ciruelo (Fairies and Dragons), Arnie Fenner (editor of Spectrum), and Mark Murphy (publisher of Fine Art Editions). Manifest a unique art empire beyond the worlds of established corporate venues.
Fri, July 23rd 6:00PM-8:00PM
"The Vinyl Frontier Documentary Screening"
Marriot Hotel & Marina (Marriot Hall 1&2)
333 West Harbor Drive, San Diego 92101
Being shown as part of the San Diego Comic Con Film Festival. A documentary film exploring the world of vinyl toys. After the screening, there will be Q&A with director Daniel Zana, Attaboy, Brian McCarty, Bwana Spoons, and Frank Kozik. Film features some of today's top artists, designers, and toy producers, including: Attaboy, Dave Bondi, Gary Baseman, Tim Biskup, Luke Chueh, Dalek, Ron English, Joe Ledbetter, and more.
Daily (Closed Wednesday), 11:00AM-5:00PM
"Viva La Revolucion"
Museum of Contemporary Art San Diego
1100 Kettner Boulevard, San Diego 92101
A must see show at the Museum of Contemporary Art San Diego featuring some of the best in street, urban, and contemporary art, including Calma, David Ellis, Date Farmers, Shepard Fairey, Swoon, and more. Be sure to check out all of the public displays as well. All of our coverage of "Viva La Revolucion" here.
Discuss San Diego Comic-Con 2010 here.