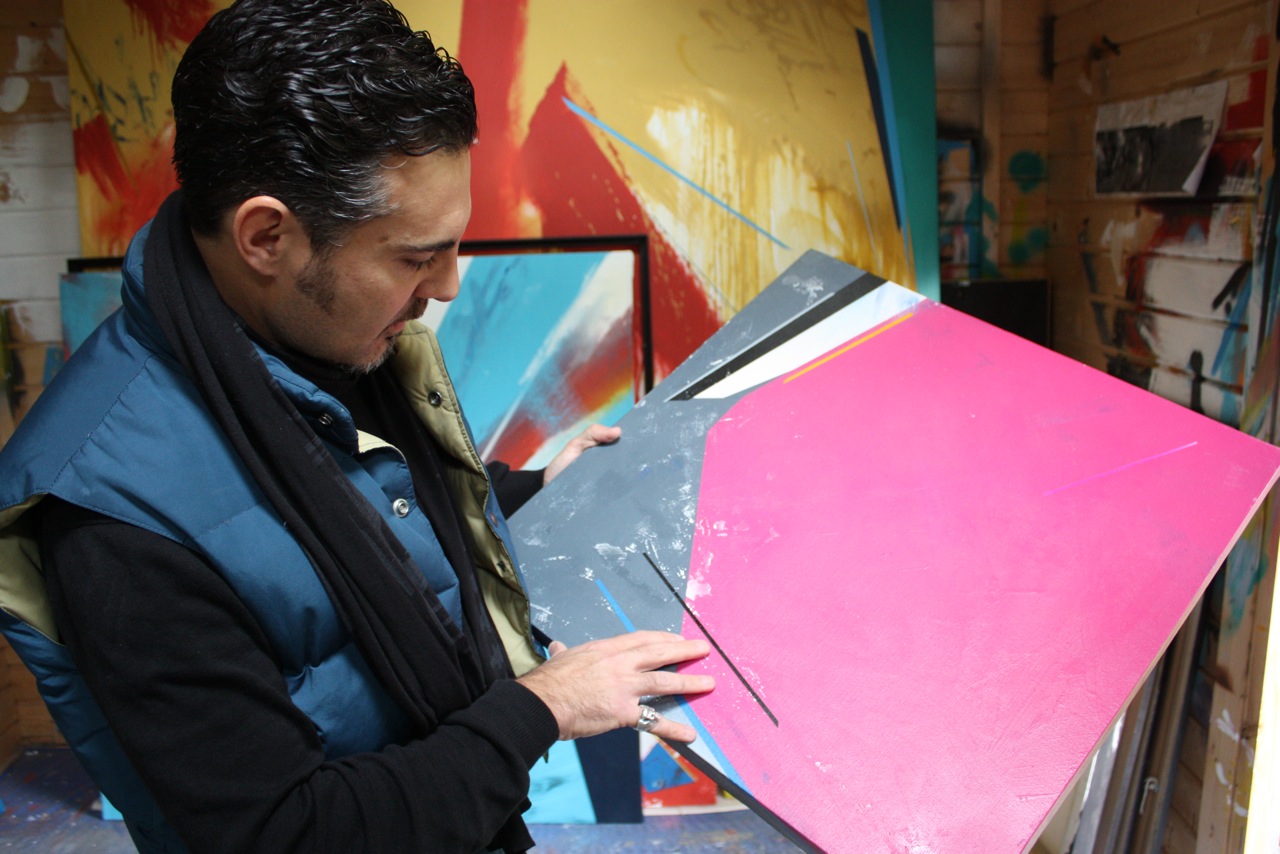 Continuing on from our look into Steve More's Edinburgh studio, AM now brings you a peek into the bottom-of-the-garden studio of Remi/Rough. The artistic pairing of Agents of Change collaborators Rough and More are realised in the upcoming exhibition entitled 'A', opening on Tuesday 1st February at Blackall Studios in London.
Remi works out of a purpose built log cabin style studio located in deepest, darkest East Dulwich. He paints using the natural light of daytime, and the immediate connection you make when visiting the studio is that the body of work painted for 'A' has been created not just with the multiple mediums of paint arranged around the studio, but also with light. This almost 'outdoor' studio location brings a natural connection to his works on canvas with his other realms of output as a graffiti writer and muralist. No stuffed animal heads decorate this lodge though – the trophies are currently a series of canvases prepared as a new body of work waiting to be hung in the gallery space.
More pictures from the studio and words after the jump.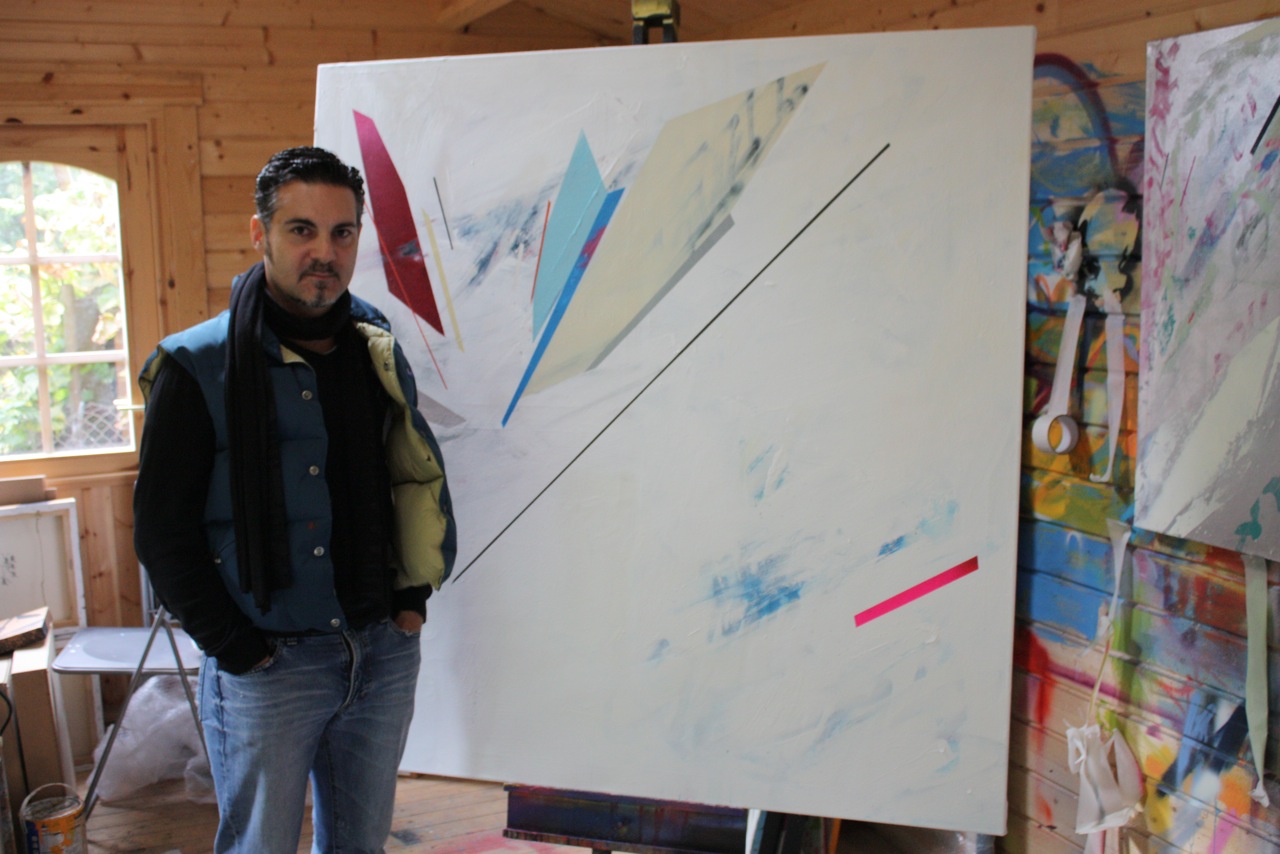 Rough has evolved from one of London's old school graffiti writers into an artist at the forefront of the post-graffiti movement – the traditional forms of letters now replaced by an arrangement of colours in an open acknowledgement of other art movements of the past such as minimalism and abstract expressionism. Rough's path of artistic output started on the streets, and with the most recent abstract gallery work informing his later street actions he's taken the route of concrete to canvas, and then back again to concrete. Remi is that rare breed of artist whose work you can equally enjoy in an outdoor setting and also in a gallery / home without it feeling awkward and out of context. Rough has effectively managed to harmonize the duality of both indoor/outdoor settings for his forms of expression without alienating or sterilizing his aesthetic.
Remi's canvas is a literal explosion of colour. Abstract by nature, but with a considered geometrical aesthetic to the bursts of lines and form. Bundles of masking tape adorn the floor – each as important as every brush stroke or flick of the wrist in composing these pieces. Jaybo Monk recently described Remi's paintings as 'Visual Haikus', and this seems a fair way to sum up this collection of new work as there is certainly a poetic element to their free flowing composition.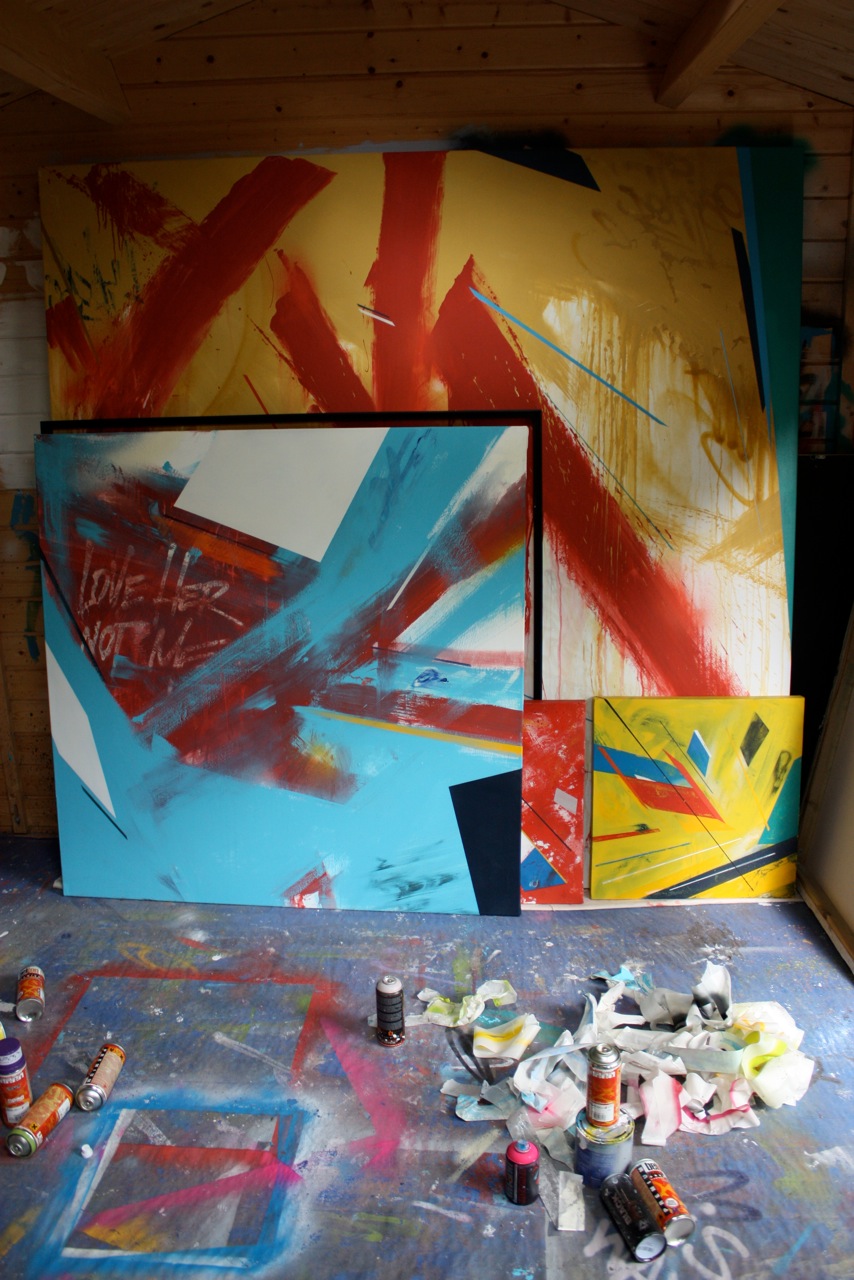 The exhibition featuring Steve More and Remi/Rough opens on Tuesday 1st February at Blackall Studios in London and runs until Sunday 6th February.
Discuss Remi/Rough here.
Discuss Steve More here.
Check out our full set of pictures here.