Rising star artist Tauba Auerbach has been working hard with the master printers at Paulson Bott Press to create five amazing new editions, which are scheduled to be released today. For these prints, Auerbach re-conceptualized the etching process of print-making, which basically entails an image being drawn onto a copper plate and then etched into the metal using acid.
For Plate Distortions I, II and III, instead of drawing, Auerbach folded pieces of copper foil and then used those as the basis of the prints. Individually printed in blue, silver and copper, the resulting images are similar in appearance to her signature fold paintings. For the other two editions, Fold/Slice Topo I and II, Auerbach intricately folded and cut paper into slices, reassembled the slices on top of the copper plates and then removed certain pieces to form patterns. The pattern images, once etched onto the plates, were printed using specific colors to show a spectral transition in both hue and tone, the color gradations indicating the order of the slicing.
Each of the new prints is 44″ by 33.5″ with an edition size of 35. Take a look at all the images of the new Auerbach editions and more photos of the process after the jump.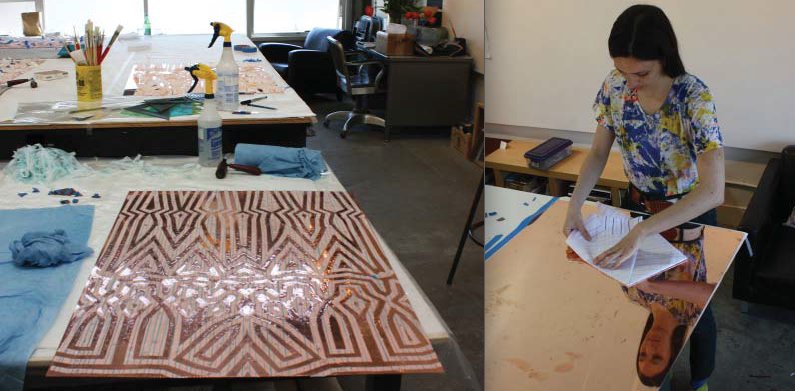 Pictures courtesy of our friend Gamma888.
Discuss Tauba Auerbach here.