Our friends from the Corey Helford Gallery brought their West Coast Style to the West Country this evening for the much anticipated opening of "Art From The New World" at the Bristol City Museum and Art Gallery. It seemed as though UK art fans were highly responsive to some of the wonderful work on show at the preview night, with a packed house drawing in the crowd from the length and breadth of the United Kingdom.
Some real visual treats are on offer, from the knock-out Mike Stilkey (interviewed) book installation in the outer lobby and all the way inside. Stilkey's installation comprises close to 3000 books, and is a freestanding, two-sided piece – completed with the assistance of Bristolian Ian Francis (featured). From there on in, the inner lobby is dominated by Buff Monster's (featured) inflatable ice cream cone piece, which must stand 15 feet high inside the impressive hall which is a nod to Banksy's ice cream truck installation in the same spot for his recent turn at the museum last year. A stunning Dave Kinsey painting and a gem from Jan Corey and Bruce Helford's own collection – Todd Schorr's (interviewed) "Ape Allegory" (from last year's Merry Karnowsky show) also take pride of place in the entrance hall. The real fun began with Gary Baseman's (interviewed) full-sized costumed figures roaming the crowd, Toby and Hot Cha-Cha-Cha (complete with HUGE phallus!) included. CHG brought an impressive number of the exhibiting artists over to attend the opening too and all seemed to be in a celebratory mood.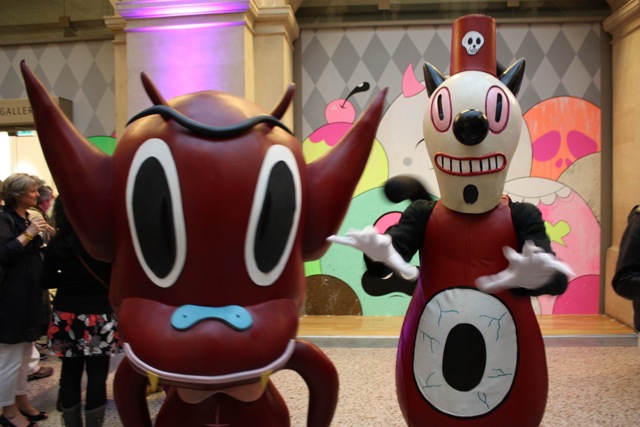 More info and pictures from the opening after the jump.
The scale and elegance of some of the paintings presented in this show lived firmly up to AM's expectations, with a solid representation of the the largely LA-based New Contemporary scene being transported to the UK for this ground breaking exhibition – a first for a UK museum to stage such an exhibition and also a first for many of the American artists to have exhibited on foreign soil. The exhibition runs until the 22nd of August, with a guided tour of the exhibit with host Gary Baseman and an artist greeting and signing event both taking place on Saturday, May 15th. If you are in the UK, give yourself a treat and go and see the show whilst it runs – don't miss this opportunity to see some of the most talented crop of US artists all under one roof.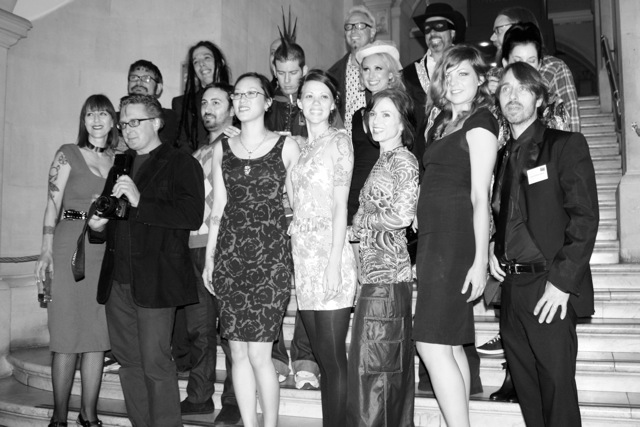 We grabbed a whole load of pictures from the opening – much more than we could upload here, so take a look at our flickr set for further pictures.
Discuss this show here.